View all news
Bristol prepares for University Challenge quarter-final test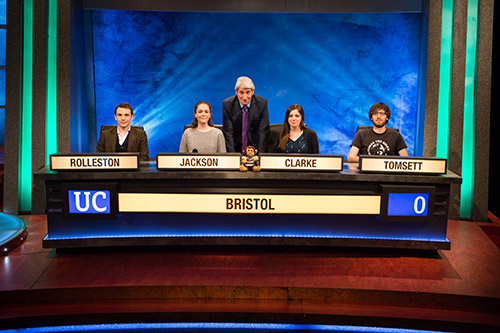 Press release issued: 20 January 2017
The University of Bristol's quiz team faces a crucial quarter-final tie against Corpus Christi, Oxford, on Monday [23 January] as its University Challenge journey continues.
The team has already beaten the University of Sheffield (210 points to 130) and won plaudits for its crushing 265 points to 70 defeat of Oriel College, Oxford, to reach the final eight.
Viewers can see if their winning streak continues when they face the sharp tongue of Jeremy Paxman on Monday at 7.30pm on BBC2. Teams in the quarter-final round have to win two matches in the round to progress to the semi-finals.
The final five Bristol teammates, chosen from hundreds of Bristol students who applied, are:
Alice Clarke (team captain) – 2nd year Medicine
Claire Jackson – 3rd year MSci Palaeontology & Evolution
Joe Rolleston – PGCE Secondary History
Michael Tomsett – 3rd year PhD in Organic Chemistry
David Dewar (reserve) – MPhil in Musicology
The team has already fought off fierce competition from the country's brainiest students to reach this stage, with over 130 student quiz teams auditioning for a coveted place on the show's 53rd series.
After a gruelling interview and tough test paper, the Bristol team were named as one of the successful 28 teams who would face the sharp tongue of presenter Jeremy Paxman.
Bristol's match against Sheffield kicked off the latest series of the long-running quiz show in July.
Prior to the televised challenge, all applicants were put to the test by the University of Bristol's Students' Union (Bristol SU) in November 2015, competing in three rounds of mentally gruelling tests. Filming took place last year.
Team captain Alice Clarke said: "While there were some daunting moments, appearing on University Challenge was overall great fun. We met some wonderful people in the competition, as well as getting to know each other and other University staff along the way.
"I'll never forget the excitement of entering the set and taking our seats; some of us have watched the program since we were in junior school and it was a brilliant and strange moment to realise we were really on it.
"It was a very different experience to actually participate in the buzzer race, rather than call out answers at home. We were proud to represent Bristol."
University Challenge is the longest-running academic quiz show in the UK. It was first aired in 1962.