View all news
IoT Boost programme now open for applications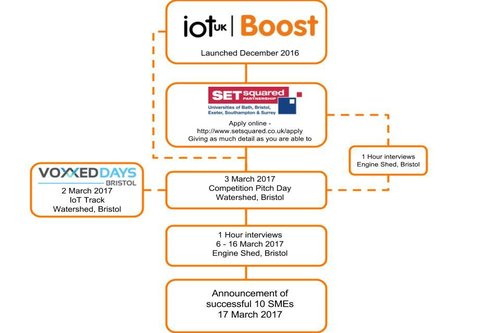 24 January 2017
SETsquared Business Acceleration Centre has partnered with High Tech Bristol and Bath, Engine Shed, and the University of the West of England to deliver the IoT Boost programme in Bristol & Bath.
Those working on Internet of Things (IoT) enabled products, services and applications could secure a year-long membership with SETsquared, to help commercialise your technology and scale the business.
A dedicated IoT Boost workshop will take place on 3 March, with the opportunity to pitch for a follow-on interview with SETsquared. Applications for the programme are open until mid-March, when 10 businesses will be selected.
SETsquared were selected by UK Digital Catapult as one of six IoT Boost delivery partners in the UK.
Monika Radclyffe, Centre Director for SETsquared Bristol, said: 'We are delighted to be selected as one of the IoT UK Boost centres, and working in close partnership with HBB, UWE and Engine Shed. Thanks to the programme we will be able to fund 10 high growth companies and further accelerate innovation in the IoT space.'
Further information
SETsquared is a long-standing partnership between the universities of Bath, Bristol, Exeter, Southampton and Surrey which specialises in growing high-tech start-ups through its incubation programme and other business acceleration services.
SETsquared provides mentoring, access to investors and corporate innovators and a wide range of industry experts through its network and training programmes.
Its business incubation programme is ranked by the University Business Incubator Index as the best in the world and over the last decade it has helped over 1,000 high-tech start-ups to develop and raise more than a £1bn of investment.