View all news
Students' shining success in Royal Academy of Engineering Awards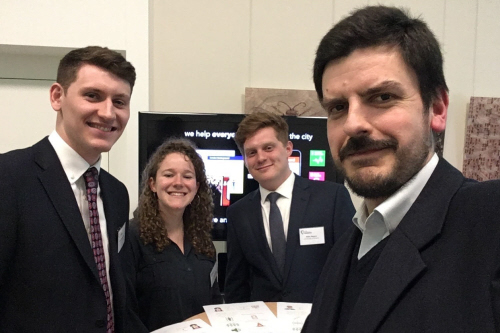 Press release issued: 25 April 2017
Ten engineering students from the University of Bristol have achieved outstanding success in two Royal Academy of Engineering (RAEng) schemes designed to promote innovation and leadership.
Earlier this month [5 April], Lottie Macnair, Patrick Gregory, Matthew Mears, Robbie Herring and Oscar Radevsky, all final year students on the Engineering Design Programme, were one of five winning teams in the Engineering a Better World Student Innovation Competition and will represent the UK at the Global Grand Challenges Summit to be held in Washington DC in July.
In the same week, five third year students, Matthew Curtis, Olivia Daniel, Alex Mulroy, Peter Simmons and Enrico Varano, also from the Engineering Design Programme, were successful in securing one of this year's RAEng Engineering Leaders Scholarships, which are only given to around 35 students nationally.
The aim of the Engineering a Better World competition is to develop solutions to meet the UN Sustainable Development Goals and/or America's National Academy of Engineering Grand Challenges.
The competition showcase held on 5 April saw teams from 18 universities across the UK pitching their ideas to judges from the Royal Academy of Engineering. The five winning UK teams will compete against students from the US and China in the Global Grand Challenges Summit in Washington DC in July. Students and professionals from the UK are welcome to attend the Summit and registration is now open online.
The Bristol team's idea, called 'Wayaround', is a Google Maps style personalised travel planning service for people with a variety of mobility impairments. Currently, transport planning tools such as Google Maps lack vital information on accessibility such as whether a tube station has step-free access, whether you need to go up a steep hill, or whether the tube is excessively busy.
Wayaround is a door-to-door route planning service that addresses the specific needs of those with impaired mobility. It takes data on steps, venues, pavement widths, heights, road surfaces, crowds and other issues from a variety of sources to create routes that meet the specific needs of the user. This information can also be fed to urban planners to identify areas in cities that are difficult to access, providing guidance on the design of future developments.
Patrick Gregory, a member of the winning team, said: "Being part of the competition has been a great learning experience for all of us. We've been able to take the skills and mindset we have developed through our degree and apply them to a real social problem that exists within society."
Dr Theo Tryfonas, a Reader in Smart Cities from the Department of Civil Engineering and the students' mentor, added: "It has been a pleasure to support our students and I'm delighted they were one of the winning teams. The UK competition was really tough and the fact that Wayaround secured one of the top spots is a testament to our students' skills, determination and passion for positive change.
"Our Engineering Design programme equips students with the skills and qualities they need to thrive in the knowledge economy and to shape the future of the engineering professions, as occasions like these showcase. I wish them every success later this summer at the global stage of the competition in USA."
The objective of the RAEng Engineering Leaders Scholarships is to allow ambitious, inspiring engineering undergraduates, who want to become leadership role models, to undertake an accelerated personal development programme. To achieve this, the winners receive £5,000 from the RAEng towards training and experience, over a period of three years, to fast track their engineering careers.
Following preliminary selection through a written application process, 70 students were invited to the final selection stage at the RAEng in London. This involved a day of interviews and group activities to evaluate not only their leadership potential, but also their drive and commitment to making a positive impact on society through their future engineering careers.
Although the support available through the scheme includes assistance from the RAEng in creating personal development plans, the students already have firm ideas for how they would like to use the award.
Alex Mulroy, Matthew Curtis and Peter Simmons, all specialising in Civil Engineering, are keen to develop skills in sustainable infrastructure design through conferences, courses and relevant work experience. Alex plans to attend the International Urban Design conference, as well as taking a summer course in entrepreneurship. Peter would like to undertake an overseas placement helping to rebuild infrastructure for disaster-struck communities. Matthew plans to attend the Greenbuild conference and to undertake a placement at a consultancy specialising in sustainable structures.
Olivia Daniel and Enrico Varano, both specialising in Aerospace Engineering, plan to use the scholarship to investigate how their aerospace engineering knowledge can be transferred to other applications. Olivia hopes to attend a Japanese summer school on automotive engineering and to attend conferences looking at future developments in the automotive industry. Enrico plans to attend conferences on biomedical engineering, as well as events that allow him to pursue his interest in space systems.
Further information
About the Engineering Design Programme
The University of Bristol's Engineering Design course aims to develop high calibre engineers who can lead complex engineering projects vital to modern society. After a broad common first year, students can choose to specialise in Mechanical, Aerospace or Civil Engineering, studying technical units alongside students from these discipline focused degree programmes. What makes the course unique is that it also gives opportunities to study bespoke design units, to undertake industrial placements and to work on real-world design projects in partnership with industry. It is accredited by all the main professional engineering institutions and is supported by leading companies from a wide range of engineering sectors.
About the Royal Academy of Engineering
As the UK's national academy for engineering, we bring together the most successful and talented engineers for a shared purpose: to advance and promote excellence in engineering.
We have four strategic challenges: make the UK the leading nation for engineering innovation; address the engineering skills crisis; position engineering at the heart of society; and lead the profession.