View all news
From the lab to your local: Bristol's biggest science festival to return to city pubs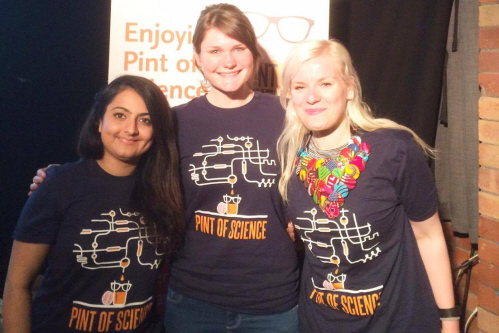 Press release issued: 11 April 2017
The world's largest festival of science is returning to Bristol's watering holes next month. From 15 to 17 May, punters will be able to raise a glass (as well as their IQ) with a series of easy-going sessions, which bring ground-breaking research from the lab to your local.
Nine city pubs will host talks on a bevy of topics from over 25 University of Bristol specialist speakers. Themes range from pioneering technology that lets you feel without touching to the Mafia, Brexit, volcanoes and more.
The sessions will allow punters to pick the brains of the UK's most brilliant minds with a drink in hand, as well as take part in other light-hearted activities including; live experiments, fun quizzes and geeky puzzles.
The University of Bristol is at the forefront of global research and academics will bring a personal touch as well as scientific clout to various pubs across the city, including:
The Greenbank
The Attic Bar
Good Chemistry Brewing
The Eldon House
Roll for the Soul
Rise/Friska
The Steam Crane
The Kings Head (Whitehall Road)
Hen & Chicken
University of Bristol PHD student, Jamie Thakrar, who is studying Neuroscience and is also Publicity Officer for Bristol's Pint of Science festival, said: "Bristol is home to so much ground-breaking research which is relatable to almost everyone. Pint of Science is a fantastic way to break down any barriers and get people talking about these fascinating topics in a relaxed and informal atmosphere."
Bristol is home to one of the biggest UK Pint of Science festivals and joins over 100 cities around the world.
This year, the Bristol festival also includes Creative Reactions, an initiative stemming from Pint of Science and comprising collaborations between artists and researchers to produce incredible art inspired by the scientists' work.
Born in Cambridge during Pint of Science 2015, Creative Reactions is expanding and this year is set to take place in five UK cities. Creative Reactions will open the festival with a launch event at The Greenbank in Easton on 9 May and the free exhibition will run from 10 to 21 May.
View the full list of sessions and book tickets on the Pint of Science website. Tickets cost £4.
To find out more, follow Pint of Science on Facebook, Twitter or Instagram.