View all news
The Kevin Elyot Award: A writer's residency in the Theatre Collection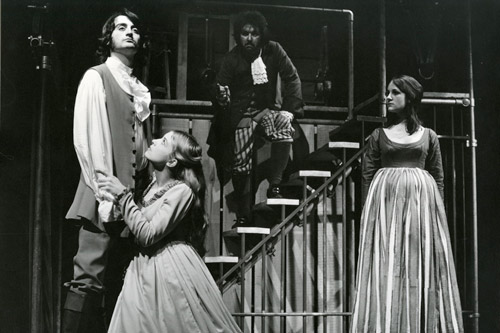 Press release issued: 6 April 2017
Applications are now open for the University of Bristol Theatre Collection's Kevin Elyot Award 2017 – created in memory of the acclaimed actor and writer.
This annual award will support a promising writer by enabling them to be resident in the Theatre Collection and begin the process of creating a new work inspired by Kevin's archive (held by the Theatre Collection), which may be a dramatic, creative or academic piece of writing.
It comprises £3,000 to fund the residency for four weeks (which may be consecutive or split), and will also offer support with research and public dissemination of the work.
The award has been generously funded by an endowment given to the University by members of Kevin's family.
Kevin Elyot (1951 to 2014) was a Bristol alumnus (Drama Department) who started his career as an actor, but went on to achieve great success through his ground-breaking plays and adaptations.
The Kevin Elyot Archive comprises scripts, correspondence, manuscript and publicity material detailing Kevin's working process from initial idea to finished product.
His process for adapting novels for television is well documented in the archive. Whilst, the content relating to his plays, including the seminal My Night with Reg, demonstrates his creative process and the particular emphasis he placed on the importance of style and form within a play.
Last year's recipient was playwright Ian McHugh who is in the final stages of creating a new dramatic work inspired by Kevin's archive which was donated to the collection by his sister following his death in 2014.
He said: "It was a huge honour to receive the award last year – I'm very grateful to the panel and to Kevin's family for the endowment.
"Kevin's plays have been a great influence for me, and it was a privilege to spend time with his archive, and use his work to develop new ideas."
Jo Elsworth, Director of the Theatre Collection said: "We hope the Kevin Elyot Award will enable a new generation of writers to find creative inspiration in the archive, so that the spirit of Kevin's life and work will live on.
"Whilst, on a more personal level, we also hope that this award will make a tangible difference to the award winner and help them develop their own career in writing.
"It is hoped the award will celebrate Kevin's life and work and the influence he has had on theatre and, through it, will enable a new generation of writers to find creative inspiration in the archive."
Further details of the award and application process can be found here. The deadline for applications is midnight on Tuesday, April 18 2017.
Further information
About the University of Bristol Theatre Collection
The Theatre Collection is an accredited museum and one of the world's largest archives of British theatre and Live Art. Its holdings cover all aspects of theatre history right up to the present day, and its visitors include everyone from international scholars to family historians
It was founded in 1951 to serve the newly formed Drama Department (the first in any University). Throughout the last 60 years the Theatre Collection has continued to grow in order to reflect all aspects of theatre and performance.
The Theatre Collection has strong links with local theatre companies and actors. It holds the archives of several local theatre companies including Bristol Old Vic, Desperate Men, and most recently, Shakespeare at the Tobacco Factory.