View all news
Dame Julia Slingo announced as new Chair of Cabot Institute External Board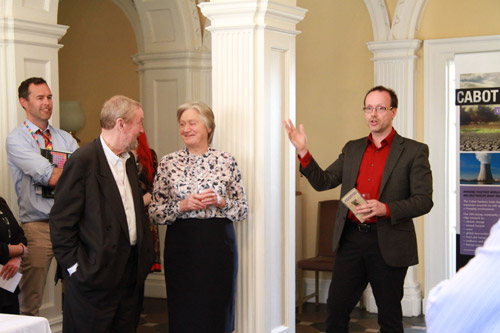 Press release issued: 11 April 2017
Yesterday (April 10), the University of Bristol said a fond farewell to the outgoing Chair of the Cabot Institute External Advisory Board (CIEAB), Sir John Beddington, and warmly welcomed Dame Julia Slingo to the role.
Sir John Beddington is perhaps best known for his work in the field of population biology and for his time in the role of Government Chief Scientific Adviser (2008-2013). During that tenure, he advised on several major events including the 2009 outbreak of swine flu and the Fukushima power plant emergency.
During the past four years chairing the CIEAB, Sir John has spent time meeting researchers of all career stages, attracting high powered advisors and advocating for the Cabot institute. His support has played a huge role in the institute's successes.
Sir John reflected: "I first worked with members of the Cabot Institute whilst Chief Scientific Advisor to Government during the Icelandic volcanic eruption of 2010. Since joining Cabot as Chair, I have seen it grow to become a notable player. It has made a major contribution to the city of Bristol, but also around the world through its award-winning work."
Professor Rich Pancost, Director of the Cabot Institute, said: "We are extremely grateful for all that Sir John has done for us. It is fitting that his departure comes just after a five star external review of the Institute, as it is the perfect moment to reflect on our successes in his term and to pave the way for an ambitious five years to come under Dame Julia's leadership."
Dame Julia Slingo is best known for her tenure as Chief Scientist of the Met Office, where she was noted for breaking down the differences between climate and weather sciences and dealing with multiple meteorological challenges including the highly disruptive Icelandic volcanic ash clouds.
Among her other achievements, Dame Julia has served as a high level scientific advisor to the European Commission's Scientific Advice Mechanism and was the first female president of the Royal Meteorological Society.
Dame Julia is particularly known for her passion for interdisciplinary research, something viewed as extremely important by the Cabot Institute.
As the new CIEAB Chair, Dame Julia will be responsible for advising and supporting the institute, and fostering its vibrant network and strong presence in the field of environmental change. As part of this, she will also be mentoring several exceptional early-career researchers.
Stepping down as Chair of the CIEAB does not mark the end of Sir John's relationship with Cabot as he intends to keep closely in touch with the Institute and its members.
Further information
The Cabot Institute
The Cabot Institute carries out fundamental and responsive research on risks and uncertainties in a changing environment. We drive new research in the interconnected areas of climate change, natural hazards, water and food security, low carbon energy, and future cities. Our research fuses rigorous statistical and numerical modelling with a deep understanding of social, environmental and engineered systems – past, present and future. We seek to engage wider society by listening to, exploring with, and challenging our stakeholders to develop a shared response to 21st Century challenges.
Follow @CabotInstitute on Twitter.