View all news
A very British celebration for Bristol graduates in Beijing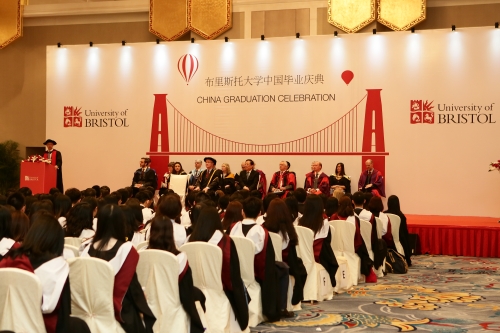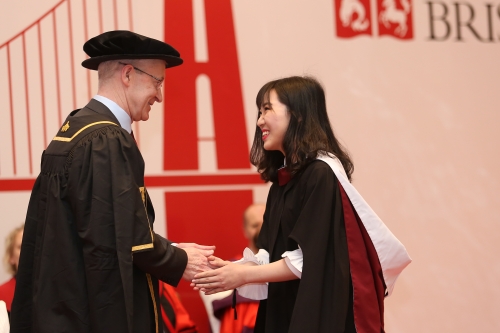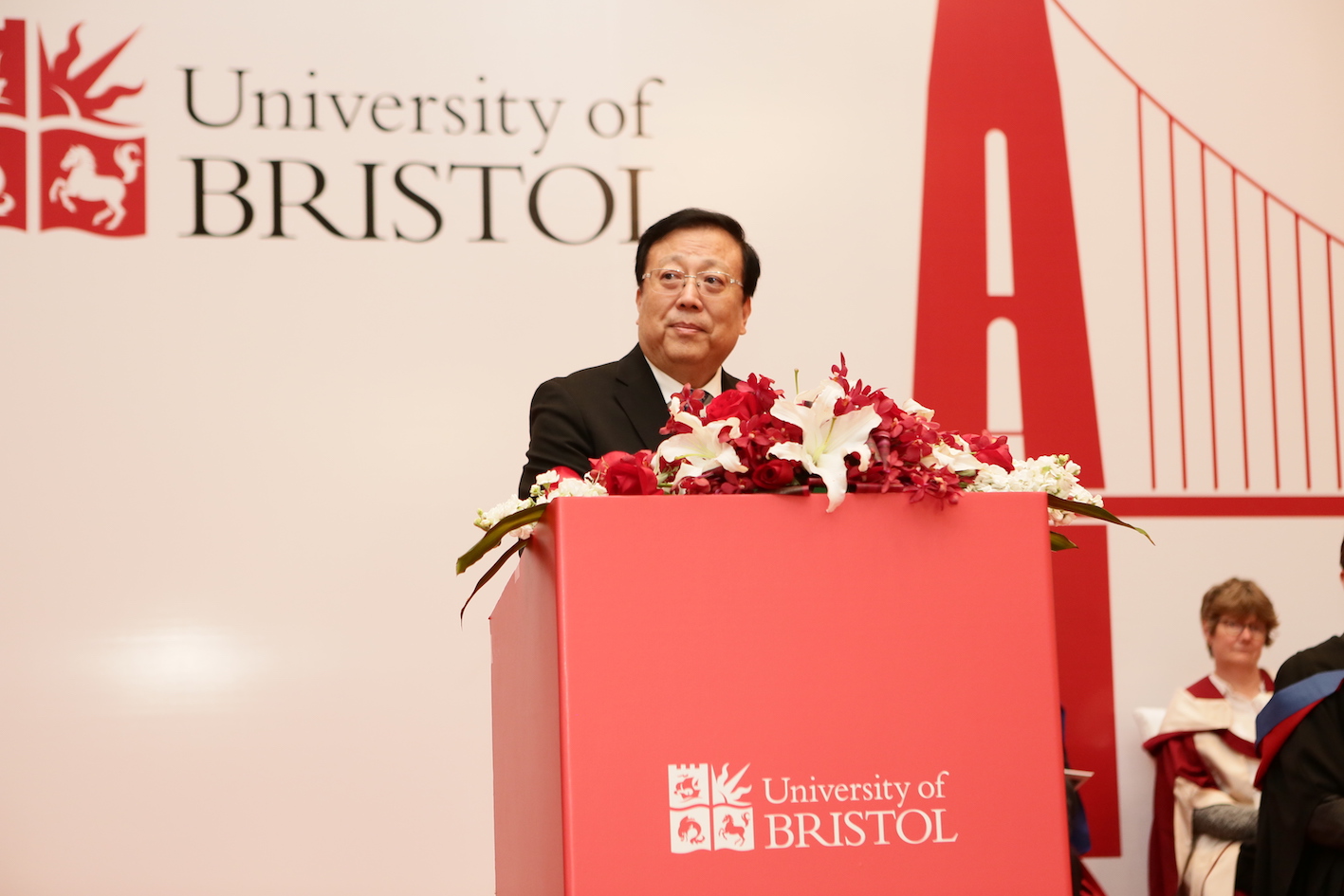 8 April 2017
Almost 400 new alumni of the University of Bristol celebrated their graduation at a British style ceremony in Beijing with a distinctly Bristol flavour.
President and Vice-Chancellor of the University of Bristol, Professor Hugh Brady, presented the new graduates with their degrees against a backdrop of the Clifton Suspension Bridge.
Professor Brady said: "As President and Vice Chancellor, it is hugely rewarding to host a ceremony here in Beijing and see so many of our recent graduates and alumni, of whom we are so proud, celebrating their time at Bristol.
"Graduation is a real family occasion and that inspires us to bring Bristol to Beijing. It's great to hear about the positive impact their time in Bristol has had on them and I am thrilled to hear so many plan to return one day."
Almost 1,000 gathered for the event at the China World Hotel in Beijing, giving former students the opportunity to share the memorable occasion with their friends and family.
Guests mingled among giant, three metre tall photos of landmarks such as the Wills Memorial Building, the Victoria Rooms and the Harbourside, and a life-size cut out of Gromit.
Professor Hao Ping, internationally renowned scholar, Chair of the University Council of Peking University and former Vice-Minister of Education, was the ceremony's distinguished guest.
Professor Ping gave the opening speech and said: "You are all highly talented, and you have received the best education, which provides you with a bright future with abundant opportunities.
"Each and every one of us, especially those who return from overseas study like you, should become the bridge between China and the UK and between the East and the West, in order to reduce misunderstanding, promote shared values and strengthen friendship."
The University, which is one of the most popular in the UK, attracts hundreds of international students every year, including many from China.
Lynn Png, who studied Commercial Law, said: "I'm so excited to be here and see so many of my friends and staff who helped me during my studies."
Yayi Mo, who achieved an MA in Film and Television Studies, said: "Studying in the UK was literally the best experience of my life. All the people in Bristol were really nice. I loved the summer there especially, as you could go to a free festival every weekend."
Jingwen Kang, who graduated this year with a MSc in Management, said: "For me, Bristol is like a wonderland. It's amazing. All the days in Bristol were so beautiful, and it was like a beautiful dream that I hated to wake up from. It was really a pity for me to miss the graduation ceremony in Bristol in February due to being busy at work, so I was so excited when I heard that Bristol would hold a graduation ceremony in Beijing. Being here today reminded me of Bristol, and took me back to that beautiful dream."
The graduation celebration was the centrepiece of a visit to China by leaders and academics from the University of Bristol. Other highlights include the signing of agreements with three prestigious Chinese universities, and a schedule of events and meetings with key figures and institutions in science and higher education.