View all news
Bristol Mayor imparts powers of political persuasion to local students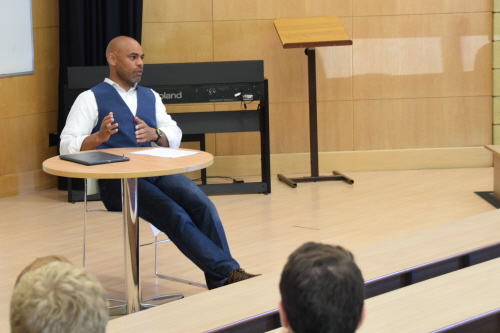 Press release issued: 25 April 2017
This week, Bristol Mayor Marvin Rees visited the University of Bristol to give a guest lecture as part of a dynamic third-year course entitled 'How to win a political argument'.
The course was introduced this year by Dr Jonathan Floyd and the session was the second of the term to feature a guest speaker.
The Mayor brought learning to life with tips from the inside on how to win a war of words in an intimate session of only 36 final-year students from the School of Sociology, Politics, and International Studies (SPAIS).
The lecture provided an informal opportunity to get up close and personal with the city's Mayor, with students gaining valuable insight into the demands of rhetoric and reality in an ever-changing political environment. One year into his term as Bristol Mayor, Marvin Rees is no stranger to the language of success.
Dr Jonathan Floyd, Lecturer in Political Theory, said: "We're delighted that the Mayor came to give this lecture. It gives a perfect local and contemporary context to the techniques we've been learning over the past three months or so".