View all news
Bristol graduates head to China's Silicon Valley to revolutionise 3D printing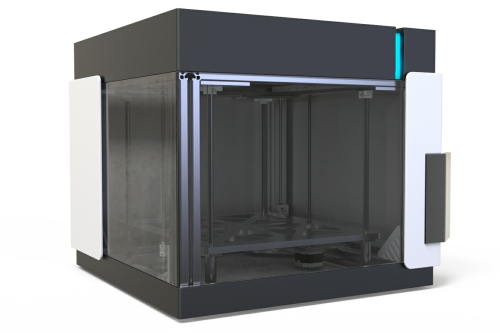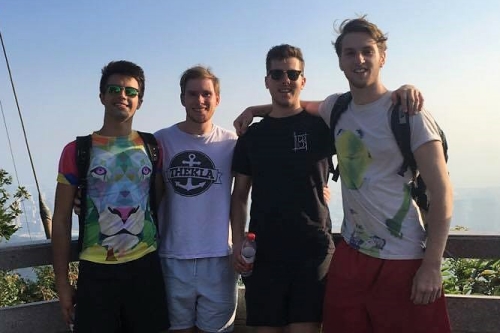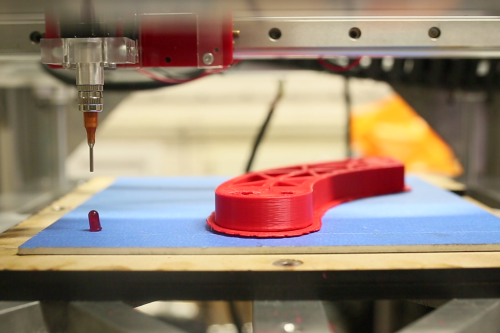 Press release issued: 5 April 2017
A team of four University of Bristol graduates will take 3D printing to a new level having gained backing from one of the world's leading hardware accelerators, Hax, in Shenzhen, China.
The engineering graduates – Alex Michaels, Ed Cooper, Jack Pearson and Glen Cahill - have gained a place alongside the top 3 per cent of applicants to the Hax Accelerator programme for their invention Omni Invent, a 'workshop in a box' that enables users to create smart products on demand.
The idea began as a University of Bristol Engineering Design Masters project, supported by the Manufacturing Technology Centre. Tasked with improving 3D printing, the team investigated improving the strength, speed and functionality of the technology. The end product was an automated machine that combines manufacturing, assembly and electronics fabrication.
"This project began with the aim of elevating 3D printing above making crude 'looks-like' items. Over time it has grown into the Omni Invent, a desktop 'workshop in a box' that brings together the benefits of printing, assembly and electronics fabrication. We hope it will empower inventors to create custom products without needing a factory or a team of experts," said Ed Cooper.
After graduating from Bristol, the team was supported by Jisc Supporting Technology Startups scheme and given six months of business mentorship and pitching opportunities and £20,000 to develop their product. It was this support that helped them attract the attention of Hax in China.
"We've been lucky to have so much support launching our business. Our lecturers and industrial partner really helped us with technical advice and JISC helped us narrow in on our target customer's pain points," said Jack Pearson.
Hax will provide the team with investment, comprehensive mentorship and workshop space in the heart of Shenzhen - widely regarded as the next 'Silicon Valley'.
"Being accepted onto Hax is a great outcome for us - they have a fantastic reputation for helping founders get their products to market and grow their businesses," said Alex Michaels.
"We're really excited to be heading back to China; the manufacturing ecosystem in Shenzhen is perfect for developing products. Having the world's manufacturing hub at your fingertips means you can get a year's worth of work done in as few as 3 months," added Glen Cahill.
After 111 days in Shenzhen, the team will travel to San Francisco to seek investment at the Hax demo day showcase and launch in September. This next round of funding will enable the team to launch their product in early 2018. After their first product launch, the team have ambitious plans to grow their business and offerings; over the coming years, they will strive to democratise manufacturing, empowering innovators in fields as diverse as biomedical devices, digital manufacturing, and education.
Dr Paul Harper, a Programme Director for the Engineering Design course, said: "This is an incredibly exciting opportunity for a team of very talented young engineers and it has been a real privilege to work with them during their studies. It is great to see what began as an undergraduate project developing into a successful start-up business."
Mervyn White, a Senior Teaching Associate who supervised the project added: "The group have done an excellent job and I have no doubt that their time in Shenzhen will help them enhance their skills and capabilities to refine the Omni Invent and build on their fantastic achievements so far."
Readers can keep up with the team's progress in China by following their blog and Twitter.
Thanks & special mentions:
Alex, Ed, Glen and Jack would like to extend thanks to the University of Bristol for their ongoing support of the venture, with special mentions for:
- Dr Paul Harper and Mr Mervyn White of the Engineering Design programme
- Redland Sanders, Industrial Supervisor, the Manufacturing Technology Centre
- Mr Clive Rendall of the Dynamics Laboratory
- Zoe and Cola of HKUST Shenzhen Research Institute for hosting the team during their first trip to China
- Jack Farmer of Basecamp – University of Bristol students can seek guidance in launching their own venture and attend enterprise events, please visit the Basecamp website.