View all news
Professional award for Security Services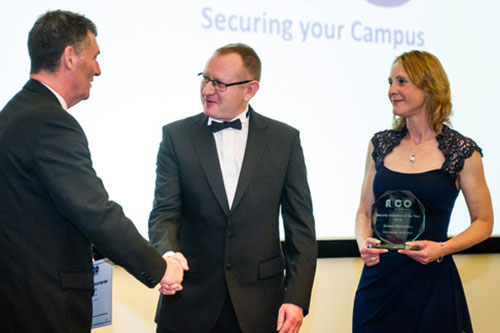 12 April 2017
The University's Security Services team has won an award from the Association of University Chief Security Officers (AUCSO).
AUCSO is the primary association for security professionals working in institutions of higher and further education in the UK and Europe.
'Security Initiative of the Year' was awarded to Simon Ramsden, Security Operations Manager at Bristol, at the AUCSO annual conference on 6 April.
David Tonkin, Head of Facilities Management Soft Services, nominated Simon for the award, citing the Security Services performance system – a balanced scorecard which incorporates a number of reports and key performance indicators – as an initiative that has notably improved reporting and performance in the team.
The impact of introducing the scorecard and associated reports has enabled Security Services to monitor performance effectively, drive activity in the areas where improvements have been identified and celebrate and reward good performance.
The University's security team was also a finalist for 'Team of the Year', and Security Supervisor Ash Fido reached the final for 'Security Officer of the Year'.