View all news
University rugby scores a try with new partnership funding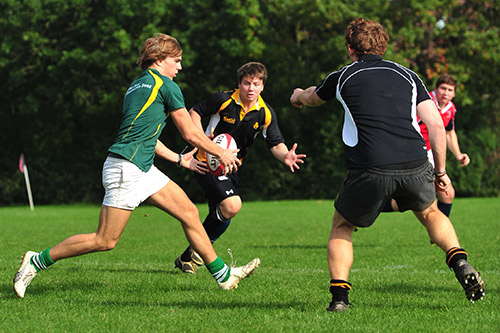 7 October 2016
The University of Bristol has been announced as one of 15 universities across the UK who will benefit from a £220,000 partnership with the Rugby Football Union (RFU) as part of the organisation's commitment to support rugby in higher education.
The University of Bristol Rugby Club (UBRFC) will receive £7,000, which it plans to use to create more opportunities for University rugby at all levels, from performance to participation.
Joe Goodman, head coach of the University of Bristol Rugby Club (UBRFC), said: "We are delighted to have been chosen as a partner with the RFU. This partnership is an exciting initiative which will enhance the club's access to coaching, education and event management resources. We will use the money to support elite athletes and students who want to give it a go, as well as engaging more widely with the local rugby community in Bristol."
Tom Mitchell, the Bristol graduate who recently led the Great Britain Rugby 7s team to a silver medal at the 2016 Rio Olympics, didn't start playing the sport at a high level until University, showing the difference that University support can make to an athlete with potential.
He said: "Partnering with such a prestigious rugby organisation is brilliant for the University's club as well as the profile of the sport itself. When I was at Bristol, rugby provided so many opportunities that I wouldn't have had otherwise. I'm really happy to see the benefits that this partnership will bring for current students."
Since 2015, the RFU has worked in a close partnership with the Students RFU (SRFU) and British Universities and Colleges Sport (BUCS) to develop and deliver partnerships with universities.
Mark Saltmarsh, RFU's Head of Education and Development: "The 15 selected partner institutions will be leading examples of universities who will provide a high level of commitment and a quality standard of rugby that will help enhance the experience for players of all abilities. Their commitment to this concept has been excellent and we can't wait to get started with them."