View all news
Student's appeal after giving half his liver to save father's life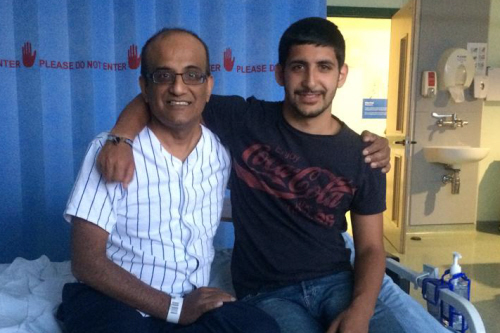 Press release issued: 21 October 2016
A student at the University of Bristol is urging people to join the organ donor register after he saved his own father's life by donating half his liver.
Deraj Wilson-Aggarwal, who's studying for a Masters in Biological Sciences, has been described as a 'hero' after undergoing a major operation to sacrifice 56 per cent of his liver to his dad Naresh, who was suffering from hepatic cancer.
It's rare for a living person to donate a healthy liver for immediate transplant and there were only 36 such procedures in the UK last year.
Now, with Deraj back to full health and his liver regenerated, he's urging people to join the donor register to help save more lives in the future.
The 22-year-old said: "I know it sounds clichéd, but I had the opportunity to help a loved one who was suffering from cancer so it was an easy decision. Other relatives do not have that option, which is why it's so important to get as many people as possible on the organ donor register."
The family's compelling story began when Naresh developed Hepatitis C as a result of a contaminated blood transfusion after he was involved in an accident when he was younger. The virus causes severe scarring of the liver.
Unfortunately, this liver cirrhosis developed into cancer and Naresh broke the news to his family in November 2014.
Deraj's older brother Jared offered to donate part of his liver, knowing that the liver has a remarkable ability to regenerate itself. Potential donors are put through rigorous assessments including a CT scan, a MRI scan, endless blood tests, a psychological assessment and a liver biopsy.
Due to the size of his liver, Jared was classed as high-risk because he would have to give up 66 per cent of his liver in order to meet my Dad's minimum requirements.
In stepped Deraj, who was adamant he wanted to help save his dad's life.
He said: "I was straight in there. I had stopped drinking anyway as soon as I found out there was a possibility I could donate.
"Being a student, it was obviously a bit of a change, but it's also led me to focus more on my studies and other things apart from my life revolving around the student lifestyle of drinking. It has actually made me healthier overall."
After an anxious 12 hour operation in June 2014, 56 per cent of Deraj's liver was successfully transplanted into his father at the Royal Free Hospital in London.
Deraj was in intensive care for four days following the operation and transferred to a ward for another three, by which point his liver had regenerated to 75 per cent. After three months, his liver was fully functioning.
Naresh also made a good, albeit slower, recovery. He is progressing well and it's hoped the transplant will not only extend his life but also improve its quality considerably.
It's hoped Deraj's selfless act will extend his dad's life by over five years.
More people than ever before across the UK donated their organs after their deaths last year, according to the Organ Donation and Transplantation Activity Report 2015/16, but the UK still has one of the lowest rates of consent in Europe.
To find out more about liver donation and to join the register, visit the NHS's organ donation website.
Watch Deraj and Naresh's story on The One Show [24 minutes in].