View all news
Volcanology research boosted by new scholarship in memory of Bristol graduate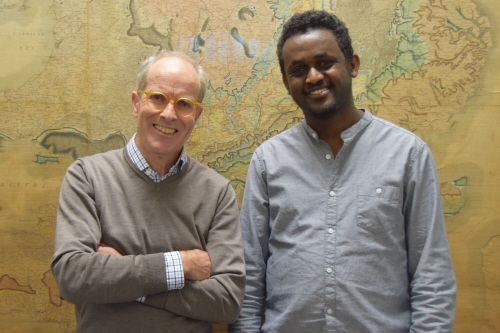 Press release issued: 4 November 2016
The legacy of a University of Bristol graduate will continue in the form of a new scholarship, designed to help Ethiopian people better understand the threat volcanoes pose to life, livelihood and the landscape.
Michael Dreyfus died in a road accident in Kenya at the age of 28 and will be remembered thanks to the newly established 'Michael Dreyfus Scholarship' – set-up to support an Ethiopian PhD student to study in Bristol.
The scholarship has been made possible thanks to Michael's university friends, George Elliston, Skip and Cathy McMullan, who read about joint research between the University of Bristol and Addis Ababa University into volcanic activity in Africa's Great Rift Valley.
Their donation has enabled 35-year-old Tesfaye Temtime Tessema to undertake a PhD in Bristol over three years, during which he will focus his research on applying geophysical methods to the tectonics and geothermal processes of volcanoes in the Ethiopian Rift.
George Elliston, who completed a Law degree in 1971, said: "What was attractive to us as donors was the idea of giving an Ethiopian PhD student the opportunity to learn from Bristol's first rate volcano specialists.
"We have named this scholarship after one of our dearest friends from Bristol, Michael Dreyfus, who died aged 28 during a trip to Kenya. Mike was a quick-witted and charismatic man, whom we all loved. He died close to the Rift Valley, and here we are in another part of the Rift, looking to the future. So, it's a nice way of keeping his memory alive in our hearts, and establishing some continuity between successive Bristol generations."
The overall aim of the scholarship is to help develop a strong network of well-trained Ethiopian scientists who will be able to advise the government, shape policies on energy and risk, and continue with the important research.
"Finding finance for non-UK and EU postgraduates is a real challenge, yet volcanology by its nature is international. By training these students, Bristol can extend its world reputation, developing close relations with universities throughout the world. We very much hope that more alumni donors will in the future join us in supporting these kinds of projects," added George Elliston.
Tesfaye's research is part of the ongoing £3.7 million RiftVolc study. Researchers aim to understand past volcanic behaviour, search for signs of current activity and make a long-range eruptive forecast for the region. A recent report for the World Bank ranked 49 of Ethiopia's 65 volcanoes in the highest category of hazard uncertainty.
Tesfaye, who has just started his PhD in Bristol after completing his masters at Addis Ababa University, said: "There isn't a full PhD programme in Ethiopia for my area of research so it's been amazing to have this opportunity in Bristol, which has a reputation for being the best at volcanology research.
"People are used to living with the risk of earthquakes in Ethiopia but it isn't a top priority for the government, so research like this is really important for improving people's understanding and assessing the threat they pose."
Tesfaye's PhD supervisor is Dr Juliet Biggs, from the School of Earth Sciences, who was the first person to discover that Ethiopia's volcanoes are restless and has worked extensively in the country.
Another important element of the RiftVolc project, which runs until 2019, is learning more about the volcanoes' enormous potential for geothermal energy. Ethiopia aims to increase its geothermal output by 300 times by 2030, but the resource needs to be developed safely and efficiently.