View all news
Universities showcase brings research to life this weekend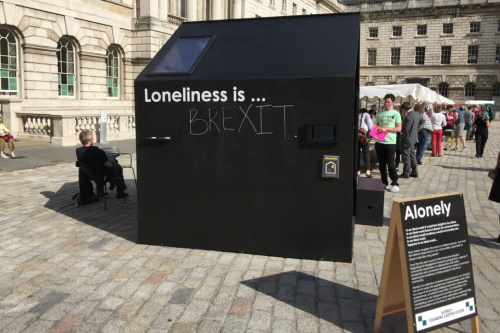 Press release issued: 10 November 2016
A showcase of the exciting research collaborations taking place across the city is being held as part of the Bristol800 celebrations this weekend.
Bristol800 is a programme of events organised by Bristol Festival of Ideas to mark the 800th anniversary of the first elected mayor of Bristol and 800th anniversary of the Bristol revision of Magna Carta, as well as other key anniversaries which coincide with 2016.
The Universities Showcase, taking place on Friday and Saturday [11 and 12 November] will give an insight into some of the innovative and thought-provoking research taking place at the University of Bristol and UWE Bristol, carried out in partnership with organisations and individuals in the city.
Four special events and exhibitions, all of which are free and open to the public, will help bring the University of Bristol's research to life.
An insight will be given into the Bristol Data Dome and the Bristol is Open high-speed fibre network on Friday [11 November], in At-Bristol from 6pm to 7pm. The ultrahigh definition immersive display environment is a unique canvas for many forms of content from city data to research data visualisation. Booking required.
Visitors to Cabot Circus will have the chance to combine retail therapy with research from 10am to 5pm on Saturday [12 November]. Researchers from the Productive Margins programme will showcase some of the projects they're working on, using games and performance to encourage participation and engagement in ideas around loneliness in older people, life chances for families in poverty, spaces of dissent and everyday utopias.
There will be performances throughout the day of the 'Alonely' monologues – diverse stories based on research into experiences of loneliness and isolation. At 1pm there will be a performance of the 'Life Chance' game and readings from a novel co-authored by community volunteers. No booking required, drop in throughout the day.
Future uses for composite materials will be explored at the Watershed from 1pm to 5pm on Saturday [12 November]. Thanks to being light weight and high strength, composite materials such as Carbon Fibre Reinforced Plastics (CFRP) are finding more and more applications, from cars, to aircraft and even bridges.
Designer Tom Metcalfe will present a work-in-progress, sharing developments of his recent micro-residency. His work explores ideas of craftsmanship, sustainability and the complementary processes of traditional tailoring and composites manufacture.
This residency was supported by Bristol800, the University of Bristol's Advanced Composites Centre for Innovation and Science, the National Composites Centre and Watershed. Booking required.
A small group workshop will give people the opportunity to explore the Bristol Old Vic Archive held at the University of Bristol's Theatre Collection. Taking place at the Theatre Collection on Park Row between 11am and 3pm on Saturday [12 November]. Sold out but you can join the waiting list.
This will be followed by a talk from 3pm to 4pm, focusing on a new project being carried out by Bristol Old Vic, the University of Bristol Theatre Collection and Bristol Record Office, to protect and share the theatre's long and fascinating history. Booking required.
Further information
About Bristol800
Bristol800 is a partnership programme that is developing, delivering and promoting activities in 2016 that celebrate significant Bristol anniversaries along with other commemorative and special events that raise awareness and encourage debate about different aspects of the city.
Anniversaries being marked in 2016 include:
800th anniversary of the first elected mayor of Bristol and 800th anniversary of the Bristol revision of Magna Carta
250th anniversary of the Bristol Old Vic
70th anniversary of the Bristol Old Vic Theatre School
40th anniversary of Concorde entering commercial service
50th anniversary of the opening of the Severn Bridge by Her Majesty Queen Elizabeth II