View all news
Central Bristol's first science incubator given the green light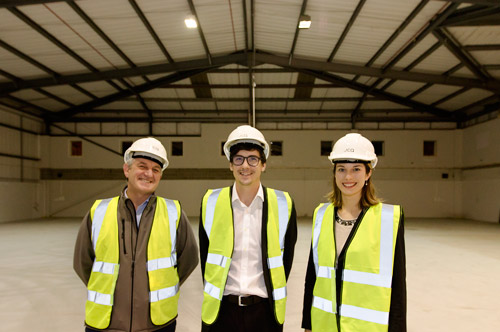 Press release issued: 10 November 2016
Construction has begun on Unit DX, a new lab space and science incubator in central Bristol, 10 minutes' walk from Bristol Temple Meads and the Engine Shed.
This brings much needed facilities and support to the growing number of entrepreneurs in the city, adding a new scientific dimension to the already thriving Bristol tech scene. Unit DX is announced in partnership with the University of Bristol's SETsquared Centre, which was named as the best university business incubator in the world last year and is also supporting a record number of businesses.
Monika Radclyffe, Centre Director at SETsquared Bristol said: "I am very excited that SETsquared will be working with Unit DX to increase access to laboratory space and to provide tailored support for scientific enterprise. We look forward to supporting innovative technologies in the life sciences sector and help Unit DX companies scale their businesses with our proven incubation model."
Of the 183,000 life sciences jobs in the UK, over half of these are located in the 'golden triangle' of London, Cambridge and Oxford. Unit DX will help to 'translate' Bristol's scientific research into commercial business opportunities.
Nishan Canagarajah, Pro-Vice Chancellor at the University of Bristol, said: "We are very pleased to be working with Unit DX to augment Bristol's scientific facilities which will significantly enhance the city's attractiveness as a location for start-ups and spin-outs."
The facility will provide entrepreneurs with 10,000 sq. ft. of high end laboratory space and another 5000 sq. ft. of office facilities to support cutting edge technologies. Unit DX will also provide access to mentoring and business support, as well as links to investors and industry networks through its partnerships.
Jack Allan, Economic Development Manager, Bristol Temple Quarter Enterprise Zone said: "Incubator facilities have a key role to play in helping business ideas take off and stimulating and supporting entrepreneurship."
Unit DX will open its doors in early 2017. Further information can be found at www.unitdx.com