View all news
Bristol researchers present quantum technologies at major showcase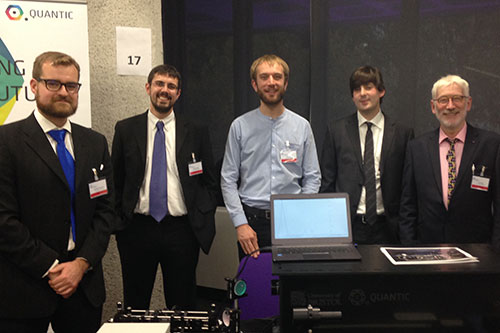 16 November 2016
Members of Bristol's Centre for Quantum Photonics presented their latest demonstrations to industry leaders, funding bodies and government representatives at this year's Quantum Showcase in London.
The researchers occupied three stands in the exhibition space at the QEII Centre in Westminster, at an event attended by industry, government and funding bodies. The showcase was an opportunity to highlight to these attendees how quantum technologies can be applied to their businesses.
The day of networking and exhibiting included talks and panel sessions from key figures including David Delpy, Sir Mark Walport, Professor Muffy Calder, Sir Peter Knight and Dr Helen Margolis.
Bristol is a major partner in two of the hubs that make up the National Quantum Technologies Programme: the QuantiC hub in Quantum Enhanced Imaging, and the Quantum Communications Technology Hub.
Bristol's QuantiC researchers demonstrated a highly efficient pair photon source suitable for sub-shot noise absorption measurements, covert rangefinding, and sample imaging with increased sensitivity compared to an ideal classical system. The Quantum Communications hub presented two exhibits: a small, inexpensive 'credit card'-style device that will allow users to access a quantum secure method to encrypt their personal information; and the world's first chip-to-chip quantum key distribution system that will enable sophisticated, high-performance communications security systems.
The showcase was a valuable opportunity to share revolutionary work and network with fellow researchers, developers and potential future collaborators.