View all news
Plans for a second city campus unveiled in University of Bristol's new strategy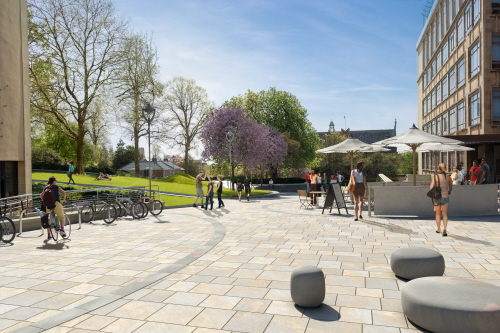 Press release issued: 15 November 2016
The University of Bristol has unveiled ambitious plans for its future, including the creation of a multi-million pound second campus in the city.
The announcement comes as it prepares to launch its new strategy in London tonight [15 November] and in Bristol on 29 November.
In addition to the second Bristol campus, which will house a Digital Innovation Hub and a pioneering new initiative in business education, there are plans to enhance the centre of its Clifton campus by remodelling the area around Tyndall Avenue and building a new University Library and Student Resource Hub.
Potential locations for the new campus are still being assessed, and the University hopes to make an announcement in the coming weeks.
Central to the vision for the new campus is a Digital Innovation Hub - a place where technologies, policies, practices, business models, and businesses fit for the digitalised society are created – and a 'business school of the future', offering courses in partnership with industry to prepare students for the jobs of tomorrow.
Research and teaching on this new, future-focused campus will concentrate on the interfaces between disciplines – for example, where business education meets big data, computer science and digital innovation.
Professor Hugh Brady, Vice-Chancellor and President of the University of Bristol, said: "There's a real buzz around the strategy as the University prepares for a new, more ambitious era.
"Central to our ambitions is the creation of a new campus, which will be a hub for innovation, engagement and entrepreneurship and be completely integrated with the city. We are working with city partners to develop this vision: we will be offering tailored masters courses co-created with industrial partners and be looking to develop research and people that feed and grow the local digital economy, with the ambition that Bristol will be known internationally for digital innovation.
"Our strategy also includes exciting initiatives to ensure all our students receive the very best educational experience. Graduates of the future need to be ready for anything: they need to be multi-skilled, resilient and adaptable, able to work across disciplinary and geographical borders.
"Already, our students are among the most sought-after by employers in the UK – we are going to improve upon that position through the introduction of a new Bristol Futures curriculum initiative which will give all students access to three personal and professional development pathways - sustainable futures, innovation and enterprise, and global citizenship. We are also going to position ourselves as a sector-leader in educational innovation, through the creation of a new Bristol Institute of Learning and Teaching."
The Tyndall Place plans revolve around transforming the area around Tyndall Avenue and Woodland Road over the next five years to provide new and enhanced facilities for students, and improve the public realm.
This transformation aims to create a welcoming 'heart' to the University – for students, staff and members of the public alike.
Key to the new strategy is the establishment of Specialist Research Institutes (SRIs), focussing on areas of research which have the greatest potential for large-scale, world-changing impact. These fields will include population health, migration and biodesign.
Professor Brady, who took over as Vice-Chancellor and President in September 2015, added: "Our ambition is to be internationally renowned for the breadth, depth and impact of our research and scholarship. Focusing on the areas of research where we can make a particular contribution to global challenges, and working with the best placed international partners is critical to our success."