View all news
Oscar-winning actress feels the force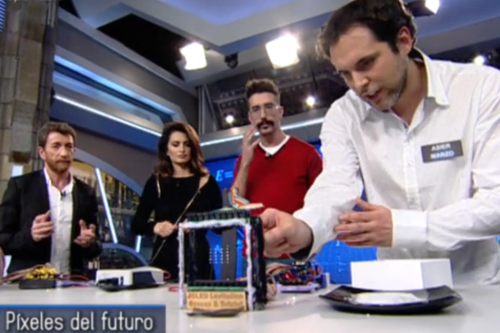 Press release issued: 30 November 2016
University of Bristol research associate Asier Marzo demonstrated a mid-air display of 'floating pixels' using soundwaves and force fields to Spanish actress and model, Penélope Cruz and actor, Chino Darín, on the Spanish TV programme El Hormiguero.
El Hormiguero focuses on comedy, science, and guest interviews. The actors were on the programme promoting their new film The Queen of Spain.
The 'floating pixels' have been created by scientists from the Universities of Bristol and Sussex using soundwaves to lift many tiny objects at once before spinning and flipping them using electric force fields. The Bristol Ultrasonics and Non-destructive Testing (NDT) group is led by Professor Bruce Drinkwater, and the Sussex Interact Lab by Professor Sriram Subramanian.
Asier Marzo, research associate in the Department of Mechanical Engineering at the University of Bristol, said: "It was great to see Penélope Cruz trying her hand at rotating the pixel and for the technology to be demonstrated to a live Spanish audience."
The technology – called JOLED - effectively turns tiny, multi-coloured spheres into real-life pixels, which can form into floating displays or bring computer game characters to life as physical objects.
The technique, presented at a future technologies conference in Japan last month, is the first to demonstrate such a fine level of control over these levitating pixels, moving the technology closer to something that might soon be part of theme parks or galleries.
For example, in the future such a display could be placed in a public park to show to users the complex and changing patterns of carbon footprints of different countries or currency fluctuations in different regions of the world. This could allow the general public to clearly see the multi-dimensional data and interact with it.
Paper
'JOLED: A mid-air display based on electrostatic rotation of levitated Janus objects' by Deepak Ranjan Sahoo, Takuto Nakamura, Asier Marzo, Themis Omirou, Michihiro Asakawa and Sriram Subramanian, is presented on 17 October at the ACM UIST 2016 conference in Japan