View all news
Engineering students celebrate scholarships and awards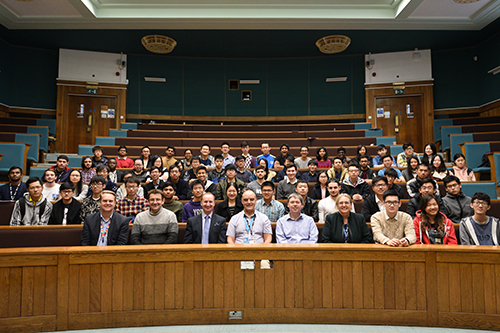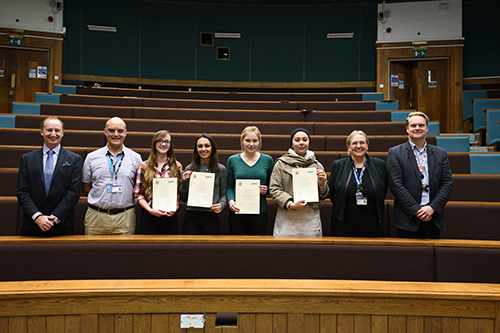 17 November 2016
In November, the University of Bristol's Faculty of Engineering held an event to celebrate student success and present prestigious scholarships and awards to over 100 students.
Eight international students were awarded the Dean's International Intern Scholarship in recognition of their high achievement during internships in their home countries. Bristol has a strong industry network overseas who continue to provide fantastic internship opportunities for our students.
The winners ranged from a student who worked with Kiira Motors Corporation in Uganda, to one who interned at Shell in Brunei Darussalam, to students working on the development of Android applications and sustainable building design.
Dean of Engineering, Professor Andrew Nix, said: "It gives me great pleasure to recognise the diverse achievements of our talented students at this celebratory event. Competition was incredibly strong again this year with excellent applications for these awards. I hope other students are inspired to consider an internship and benefit from Bristol's strong alumni and global industry networks."
The students themselves were enthusiastic about the benefits of their internships, one said: "I am grateful for having had such a supportive mentor. I have realized the significance of effective communication and having a can-do attitude."
The event also celebrated the International Entry Scholarships, awarded to nearly 100 international undergraduate students with A*, A*, A at A Level or equivalent, who joined the University in 2016 with these exceptionally high grades.
Airbus is a close industrial partner of the Faculty and for the second year running, the Airbus Group Women in Aerospace First Year Scholarships were presented at this awards ceremony. Dr. Carren Holden, Aircraft Loads Capability Developer and Professor Ian Lane, Senior Technical Expert from Airbus Group formally awarded the scholarships to four new undergraduates: Abi Coates; Zeynep Yanar; Sophie Hazelby and Victoria Race.
The scholarships form part of an innovative outreach and widening participation investment, with a particular emphasis on encouraging more women to take up engineering.
Dr. Holden said: "I am passionate about championing women in engineering so it was a pleasure to meet the scholarship winners today. It will be great to work with these talented ladies over the coming year with the exciting joint initiatives that are in the pipeline, to inspire as wide a group as possible to become tomorrow's engineers."
Attendees at the event also watched the winning entry of the Industrial Internship video competition by Haziq Kamal. Haziq is studying Electrical and Electronic Engineering and completed a summer internship at Converter Technology. Due to the high standard of video entries, which all highlighted the benefits of completing an internship, runners-up prizes were also presented to Sarathak Mahapatra and Yash Mehta. Congratulations to all of our worthy winners.
Further information
The students who received the Dean's International Intern Scholarship are:
Ching Wai (Daphne) Pang (Civil Engineering - James Lau Associates Ltd, Hong Kong)
Danyal Merchant (Mechanical Engineering - Mahindra and Mahindra Ltd, India)
Gendong Zhang (Electrical and Electronic Engineering - Shanghai Advanced Research Institute, China)
Gordon Balaaka (Mechanical Engineering - Kiira Motors Corporation, Uganda)
Jiawei (Will) He (Engineering Maths - Hyder Acla Consulting Ltd, China)
Joanna Shu Ting Lee (Mechanical Engineering - Atkins China Ltd, Hong Kong)
Kai Lau (Mechanical Engineering - Shell, Brunei Darussalam)
Tianyi Li (Mechanical Engineering - BMW BaoLin, China)