View all news
HRH Duke of Kent at synthetic biology centre during visit to the University of Bristol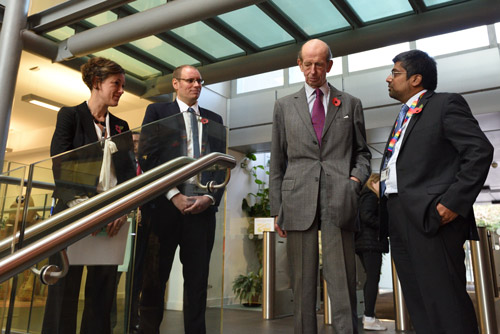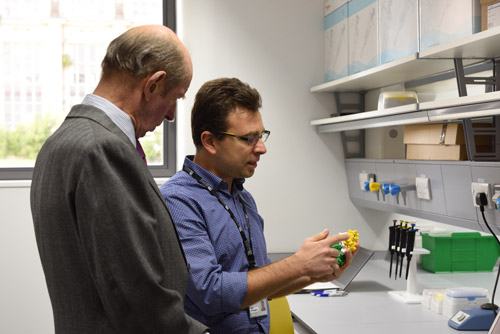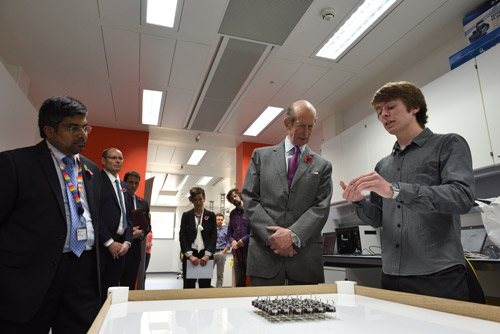 Press release issued: 24 November 2016
HRH Duke of Kent met staff and students at the University of Bristol's Synthetic Biology Research Centre recently and saw some of the exciting and pioneering research being carried out there.
BrisSynBio is one of six national synthetic biology centres funded by Research Councils UK. It is based in the new £56million Life Sciences Building.
Synthetic Biology is an emerging scientific discipline that seeks to apply the fundamental principles of engineering (abstraction, modularity, and rational design) to study and exploit biology.
By taking this approach our researchers are able to tackle important questions of global significance more rapidly, efficiently, and with greater success, for example making new vaccines or improving the yield of staple crops.
BrisSynBio is developing a unique style of synthetic biology that is focused on engineering biomolecules.
Where possible, this basic research is translated into applications relevant to health and UK industry.
For example, researchers are developing new ways to produce agrochemicals, pharmaceuticals and fine chemicals in bacteria, and are working with multi-nationals, SMEs and spinning out their own companies to embed these new approaches into industry.
The team is also working hard to train the next generation of synthetic biologists for academia and industry – the research leaders and CEOs of the future.
Dr Paul Race, BrisSynBio Co-Director, said: "It was a great pleasure to accompany HRH Duke of Kent on his tour of BrisSynBio.
"He showed tremendous enthusiasm for the world leading research that is being undertaken within the centre."
Professor Nishan Canagarajah, Pro Vice-Chancellor (Research), said: "We were delighted to facilitate this visit by HRH Duke of Kent who was very interested and engaged during his time with us.
"He wanted to see one of our flagship research activities and the subsequent impact of multi-disciplinary research which is vividly demonstrated by our synthetic biology centre which covers activities across three of our faculties.
"He was particularly interested in seeing how research is addressing big societal issues and an example of university investment in this state-of-the-art facility."