View all news
University teams up with Bristol Museum & Art Gallery for roaring return of Dinosaur Takeover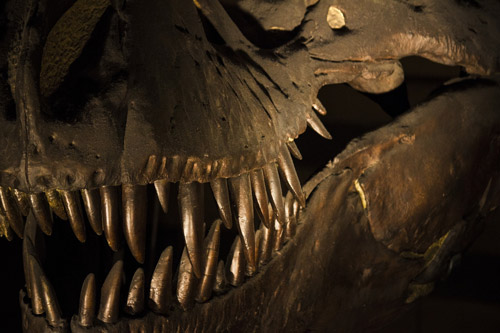 Press release issued: 3 November 2016
The hugely popular Dinosaur Takeover event is set to return to Bristol Museum and Art Gallery for one week this month.
Bristol Museums' award winning Learning Team will once again team up with expert palaeontologists from the University of Bristol to bring to life the fantastic collections of fossil and dinosaur remains. Schools from across Bristol and the region are signing up for workshops aimed at children between the ages of 5 and 9 years old.
Those taking part will be treated to a 90 minute workshop packed with thrilling dinosaur-related activities. School children will be able to handle and examine fossils, get up close to The Bristol Dinosaur, take part in a dino-dig, learn about dino food chains and more.
Bristol Museum & Art Gallery has a special connection to dinosaurs. In 1834 Samuel Stutchbury, the second Curator of the Bristol Institute – now Bristol Museum & Art Gallery – was approached by a group of quarrymen who had discovered strange bones at Durdham Down, Clifton. This was only the fourth dinosaur to be discovered in the world and the term 'dinosaur' had not yet been invented. Their find was named Thecondontosaurus antiquus.
Eight years later Richard Owen called an extinct group of fossil reptiles 'dinosaurs' and it was clear that the Bristol remains belonged to that group. 'Theco', as the Bristol dinosaur is fondly known, lived about 210 million years ago in the Triassic period.
The last takeover event was held in March 2016 during British Science Week and saw over 250 children spend a morning or afternoon finding out all about 'Theco' – his characteristics and habitat – as well as taking part in a range of other interactive activities, all linked to the Key Stage One (KS1) and Key Stage Two (KS2) science curriculum.
Professor Mike Benton, from the School of Earth Sciences, at the University of Bristol said: "We are delighted to partner with Bristol Museum & Art Gallery to engage young children in science. It's brilliant for the students too - a break from their regular studies, but also serious, practical experience in education and learning."
Councillor Claire Hiscott, Cabinet Member for Education and Skills at Bristol City Council, said: "I'm delighted to see the overwhelmingly popular Dinosaur Takeover event return to the Bristol Museum and Art Gallery for another run. The hands on approach adopted by the team to bringing this subject to life certainly proved very successful during this year's British Science Week.
"Bristol is a Learning City and, as such, we want to make sure that we offer everyone in the city an opportunity to develop and learn. The sessions provided by the Museum's Learning Team offer schools and home educators unique opportunities to experience hands on learning unlike any available in the classroom or at home. Their exciting programme of learning experiences offers something for all ages and interests."
Andrew Easey, a teacher from Cam Everlands Primary School in Gloucestershire who brought a class to the museum earlier this year, described the Dinosaur takeover workshops as: "a great introduction to the world of dinosaurs for Year 1 children… and great to handle fossils and think about where they came from and what they were."
Bristol Museum & Art Gallery will be hosting another Dinosaur Week for Year 1-4 school groups during British Science Week in March 2017. Other Earth Science workshops delivered by the museum include Rocks and Fossils and Evolution.
Further information
Bristol Museum & Art Gallery
Discover Bristol's world-class collections, from dinosaurs and gems to magnificent fine art and Egyptian artefacts. Twenty galleries tell the story of our world in every display from the beginning of time to the present day. Explore Natural History, ancient civilisations, archaeology and much more - www.bristolmuseums.org.uk
Learning with Bristol Museums
Learn with Bristol Museums for exciting encounters with real artefacts, documents and artworks from some of the UK's finest collections. There are many ways educational needs can be met, including; handling sessions, costumed role-play, gallery activities and meet the expert opportunities. Enrich your school curriculum, extend your personal knowledge, develop a new skill in adult life or just feed your curiosity – learning in museums is for everyone - www.bristolmuseums.org.uk/learning