View all news
Scientists unravel the mystery of Mars lander Beagle 2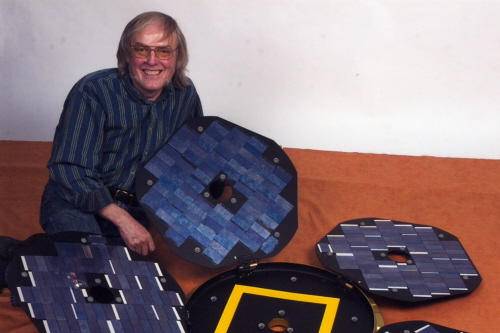 Press release issued: 11 November 2016
Scientists have moved one step closer to understanding exactly what happened to the ill-fated Beagle 2, whose mission to Mars was led by Bristol-born Professor Colin Pillinger.
The probe was discovered in November 2014, more than 10 years after it landed on the red planet, but uncertainty surrounded what had caused its failure to communicate with Earth.
Now, experts from the Universities of Leicester and De Montfort have used 3D modelling technology to reveal that Beagle 2 had deployed at least three, possibly all four, of the solar panels it was supposed to after touching down on the planet's surface.
Beagle 2 mission manager Professor Mark Sims, from the University of Leicester, will be sharing the latest insights at a special talk at the University of Bristol on Wednesday [16 November], being held in memory of Colin.
Professor Sims said: "This new technique has allowed us to gathered more information on the failure of Beagle 2 to communicate and we are one step closer to knowing what happened. In reality we may of course never know exactly what caused its failure to communicate after what has been confirmed as a successful landing, which was a fantastic achievement by the Beagle 2 team. The work shows frustratingly that Beagle 2 came so close to working as intended on Mars.
"Of course Colin would have been delighted to learn that Beagle 2 so nearly worked successfully on Mars and I am very pleased to have the opportunity to talk about these new findings at the second annual Colin Pillinger Memorial talk in Bristol next Wednesday."
The second Colin Pillinger Memorial Talk, entitled 'Beagle 2 and Bedbugs', is organised by the University with Colin's family.
One of his former colleagues, Dr Geraint (Taff) Morgan, who worked on Beagle 2's science package, will also be sharing how the science and technology expertise gained from space missions is helping with medical and environmental applications.
A full-sized model of Beagle 2 will be on display in the Wills Memorial Building to accompany the talk.
Colin's widow, Judith, said: "I'm pleased that this year's talk will demonstrate how the legacy of Beagle 2 lives on in an ever-expanding range of applications on Earth. It shows that being involved in space science and technology can offer exciting career opportunities for many young people, not just aspiring astronauts. And of course the latest findings about our spacecraft on Mars continue the Beagle 2 story.
"Colin loved to share his excitement of being involved in cutting-edge science with people who did not think of themselves as scientists, and we hope the talk will appeal to lots of people from different walks of life."
Further information
About Colin Pillinger
Professor Colin Pillinger made more than a thousand contributions to scientific literature, and also found time to be one of Britain's foremost science communicators, contributing dozens of popular articles in newspapers and magazines as well as giving hundreds of public lectures.
He has close links with Bristol having been born in Kingswood in 1943 and educated locally until embarking on a Chemistry degree at University College Swansea, where he went on to achieve a PhD in Mass Spectrometry. He subsequently returned to the city as a Research Associate at the University of Bristol from 1968 to 1976, working as part of a team analysing the Apollo lunar samples. His memory lives on in Bristol: today he features on the Bristol £5 note and his school days are remembered at Kingswood Heritage Museum.
Professor Pillinger is best known as being the principal investigator for the Beagle 2 Mars lander project, part of European Space Agency's 2003 Mars Express mission. He conceived the Beagle 2 mission after analysing a number of meteorites from Mars and finding exciting evidence suggesting existence of life there.
Beagle 2 was last seen leaving the Mars Express orbiter that carried it to Mars. It was due to land on the planet a few days later on Christmas Day 2003 but no communications were ever established. After so many years of not knowing what happened to Beagle 2, high resolution cameras on NASA's Mars Reconnaissance Orbiter (MRO) imaged the lander on the surface of the planet pretty much where it was expected to touch down.