View all news
Open networking solutions company receives major investment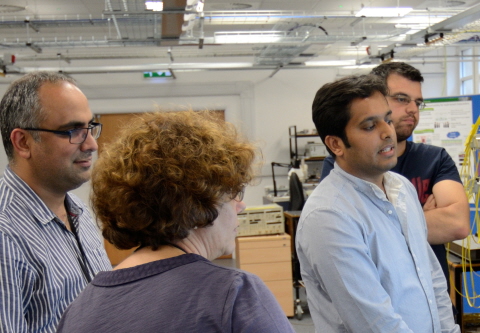 Press release issued: 25 January 2016
Zeetta Networks, which focuses on the design, development and marketing of open networking solutions, has received funding of £1.25 million to commercialise the University of Bristol's software-defined networking technology to smart enterprises and Internet of Things (IoT).
The company, a spin-out from the University's High Performance Networks group, is an internationally renowned team for their expertise in software-defined networking and network virtualization.
Zeetta breaks vendor-lock-ins using a unique open networking platform based on industry-standard hardware and powerful orchestration software - named NetOS®- which manages, automates and monitors the whole network while significantly reduces its costs. Zeetta sells NetOS® to service providers and enterprises to help them drive down their network costs while improving its scalability and flexibility.
NetOS® offers a "USB-like", plug-n-play management of different types of connected network devices and enables the construction of virtual "network slices", for example separate logically-isolated sub-networks for the deployment of business-to-business or business-to-consumer services, such as Ultra HD wireless video distribution, city-wide Wi-Fi, IoT and other applications.
The funding, which is being provided by existing investor IP Group plc and new investor, Breed Reply, means that Zeetta can significantly accelerate its growth plans. This will enable the company to expand its commercial and technical teams and target new markets.
Zeetta Networks has been a virtual member of the Bristol SETsquared Centre since September 2015 and they will be looking to take up residence in the Bristol SETsquared Centre, housed in the iconic Engine Shed, as soon as possible.
Vassilis Seferidis, CEO of Zeetta Networks, said: "Since the formation of our company last May we have achieved many impressive milestones including considerable revenues from our first customers and grant funding from the European Commission through our participation in the REPLICATE lighthouse project. The investment from IP Group and Breed Reply cements the confidence of the market in our technology and our team.
"The Research and Enterprise Development team at the University of Bristol and SETsquared have been reliable partners throughout our journey. They have provided Zeetta with guidance and practical advice and - in the case of SETSquared - a friendly and conducive community environment to test ideas and prepare our company for the investment."
Nick Sturge, Director of the Bristol SETsquared Centre, added: "Zeetta is delivering technology that builds on Bristol's strength in telecommunications and city-scale, high-performance networking technologies. This rapid and significant investment is testament to the potential for the software-defined networking technology developed by the University of Bristol and commercialized by Zeetta Networks in all sorts of exciting applications."
Further information
About Zeetta Networks
Zeetta Networks is a spin-out company from the University of Bristol developing and marketing Open Networking solutions for heterogeneous networks based on Software Defined Networking (SDN) and Network Function Virtualisation (NFV) principles.
The company's main product is a Network Operating System (NetOS®) which offers a "USB-like" plug-and-play management, automation and monitoring of different types of network devices and enables the construction of virtual "network slices" for the deployment of wide range of B2B or B2C services. Zeetta's core technology has been developed over the last five years by the High Performance Group in the University of Bristol as part of European, UK Government and Industry funded research.
About IP Group
IP Group is a leading intellectual property commercialisation company which focuses on evolving great ideas, mainly from its partner universities, into world-changing businesses. The Group has pioneered a unique approach to developing these ideas and the resulting businesses by providing access to business building expertise, capital (through its 100%-owned FCA-authorised subsidiary IP Capital), networks, recruitment and business support. IP Group has a strong track record of success and its portfolio comprises holdings in over 90 early-stage to mature businesses across four main sectors -- Biotech, Cleantech, Healthcare and Technology. The Company is listed on the Main Market of the London Stock Exchange under the code IPO.
About Breed Reply
Breed Reply, Reply's advanced incubator, funds and supports the development of start-ups on the Internet of Things (IoT) in Europe and the USA. Based in London, with operational offices in Italy and Germany, Breed Reply supports entrepreneurs and young talent by quickly bringing new ideas to the market. This is done via three fundamental services: funding at "seed" and "early stage" level; considerable support with significant know how transfer of business, managerial and technological expertise; and, thanks to Reply's ecosystem, medium-term involvement to establish start-ups in their market. In the IoT sector, the main areas Breed Reply focuses on are fitness and wellness, healthcare, smart home, manufacturing, transportation and energy.
About SETsquared
SETsquared is collaboration between the universities of Bath, Bristol, Exeter, Southampton and Surrey which provides services to accelerate businesses and boost enterprise.
Its incubation programme specialises in growing technology start-ups from bases or 'incubation centres' at each of the five universities. Start-up companies do not have to be based in one of the SETsquared centres, non-residents can be part of the programme, benefitting from the same world-leading mentorship, networking opportunities and access to investors.
In the last ten years, the SETsquared Partnership has supported around 1,000 companies and helped them raise more than £1bn in capital. In October 2015, the Partnership of SETsquared Centres was ranked best university business incubator in Europe, for the third year running.
For more information visit, www.setsquared.co.uk and www.bristol.ac.uk/red/business-acc