View all news
South West Nuclear Hub and National Nuclear Laboratory sign a Memorandum of Understanding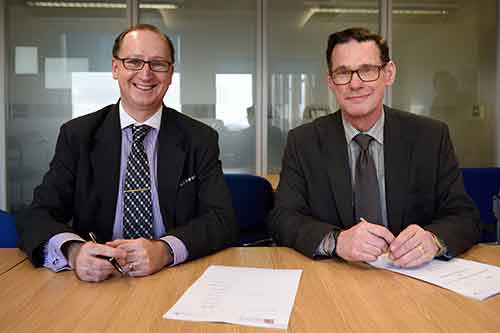 Press release issued: 11 January 2016
The University of Bristol's South West Nuclear Hub has entered into a strategic relationship with the National Nuclear Laboratory (NNL), who undertake applied nuclear research and development with a key role in supporting government and industry in strategic nuclear programmes.
The signing of a Memorandum of Understanding (MoU) took place last month between NNL's Chief Scientist Professor Andrew Sherry and Professor Andrew Nix, Dean of the University's Faculty of Engineering.
The relationship formalises the association between the NNL and the SW Nuclear Hub and will facilitate a mutually beneficial collaboration in supporting the growth and development of the UK's technical nuclear energy capability, in terms of knowledge, expertise and facilities.
It will help to provide support to deliver the UK's ambitions for nuclear energy at home and overseas, and it will help maintain strategic nuclear capability and skills in key areas needed in the long-term for national interest where these may not be supported by short-term commercial drivers.
Additionally, it will allow the partnership to undertake a programme of nuclear research supported by long-term funding, across current and future applications of nuclear technology, from fundamental research to immediate industrial problems, to improve understanding and visibility of nuclear research in both organisations.
A key aim of this collaboration is to support the development of the next generation of nuclear scientists and engineers to meet the nuclear energy skills gap by growing the skills pipeline.
Professor Andrew Sherry said: "The 2015 Spending Review highlighted priorities in nuclear research with a view to building one of the world's first Small Modular Reactors in the UK. NNL's university links are therefore vital both for us and for the UK as we draw on the nuclear research excellence and high level skills to deliver impact in all our national nuclear programmes. We are delighted to sign this MoU which paves the way for a far more strategic relationship with the Bristol-Oxford Nuclear Research Centre, enabling a growing contribution to this national nuclear mission."
Professor Andrew Nix added: "The signing of this document is symbolic of the University's commitment to the nuclear agenda and strategic research driven by close collaboration with key stakeholders."