View all news
Bristol SU wins Students' Union of the year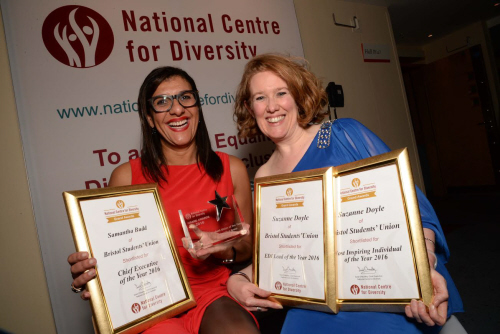 Press release issued: 28 January 2016
The University of Bristol Students' Union (Bristol SU) has won Students' Union of the year at the National Centre for Diversity Awards.
The awards are run by the National Centre for Diversity, an organisation which aims to advance fairness for all in the workplace.
They celebrate organisations and individuals that positively influence beliefs, attitudes, behaviour and conduct towards issues surrounding equality, diversity and inclusion (EDI).
The awards celebrate the achievements of grass-root communities that tackle these issues, giving them recognition for their dedication and hard work.
As well as winning the Students' Union of the year award, Bristol SU were ranked number 31 in the top 100 organisations for EDI in the country.
Bristol SU Chief Executive Samantha Budd was also shortlisted for Chief Executive of the year.
Executive Manager Suzanne Doyle was shortlisted for an impressive three awards: EDI lead of the year, most inspiring individual of the year and community champion of the year - the last two of which she received a special mention for.
Jamie Cross, Bristol SU's Equality, Liberation and Access Officer, said: "I'm so pleased that we came back from the awards having won best Students' Union, and having had staff being nominated as well.
"Leading the way in equality and diversity is something that staff and students alike have highlighted as crucial to our organisation and ethos, and have done for years. We're really proud that this has been recognised and we will continue to work hard to make positive change in these areas."