View all news
1 in 50 16-year-olds affected by chronic fatigue syndrome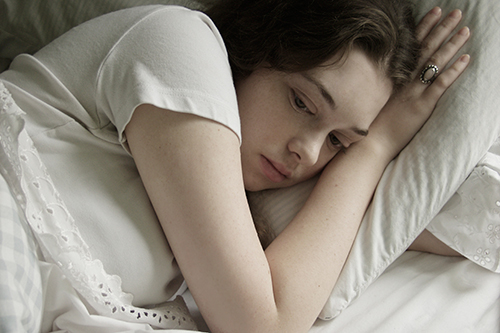 Press release issued: 25 January 2016
In what is believed to be the biggest study of chronic fatigue syndrome (CFS) – also known as myalgic encephalomyelitis (ME) – in children to date, researchers at the University of Bristol have found that almost two per cent of 16-year-olds have CFS lasting more than six months, and nearly three per cent have CFS lasting more than three months (the UK definition). Those with CFS missed, on average, more than half a day of school every week.
The researchers looked at the condition in 5,756 participants in Children of the 90s and found that girls were almost twice as likely as boys to have the condition. This is because CFS/ME became more common in girls between 13 and 16 but not in boys. Children from families experiencing greater adversity were more likely to have the condition, dispelling the commonly-held view that CFS is a 'middle-class' illness or 'yuppie-flu'. The definition of adversity included poor housing, financial difficulties and a lack of practical and/or emotional support for the mother.
The researchers point out that the diagnosis of CFS was not made by a doctor, but is based on responses to questionnaires sent to both the teenagers and their parents.
Dr Esther Crawley from the School of Social and Community Medicine, is a consultant paediatrician specialising in CFS/ME and the senior author of the report. She said: 'This is an important study because it shows that CFS/ME is much more common in teenagers than previously recognised. Treatment at this age is effective for most children but few have access to treatment in the UK. Children attending my specialist service at the Royal United Hospital in Bath only attend two days a week of school on average. This means only the most severe cases are getting help. As paediatricians, we need to get better at identifying CFS/ME, particularly in those children from disadvantaged backgrounds who may be less able to access specialist care.'
Dr Simon Collin, the report's lead author added: 'CFS is a very debilitating illness, which has a huge impact on the lives of children and their families, and the results of our study underscore the need for further research into the causes of, and improved treatments for paediatric CFS.'
Mary-Jane Willows, chief executive of the Association of Young People with ME, said: 'We are encouraged by the results of this study as, at last our children, their families and those fighting for a diagnosis have the evidence they need. Evidence confirming the condition as being not only really common but, more significantly, evidence reflecting the high level of suffering with which they are forced to live.
'Our own research in 2015 revealed that 94 per cent of children with ME/CFS reported being disbelieved and, combined with the results of this study, we hope this unequivocal need for a far better level of understanding from health and education professionals will signal the beginning in a shift in access to treatment, with currently only 10 per cent having access to a specialist. We also hope this research leads to a reduction in the high number of unjustified allegations of harm made against parents.'
Sonya Chowdhury, chief executive of Action for ME added: 'This important study, analysing data from parent- and child-completed questionnaires, highlights the increased prevalence of ME among 16-year olds, pointing with even greater urgency to the need for effective treatments. We know from contact with the parents of children with ME that this disabling condition impacts on every area of family life. The reality is that many young people miss considerably more than half a day of school a week, while for the most severely affected, their disabling symptoms are compounded by the isolation and loss that comes with being house- and/or bed-bound.'
Further information
Chronic fatigue syndrome (also known as myalgic encephalomyelitis or ME) is a debilitating disease which has a major impact on the lives of those affected. It causes persistent exhaustion that doesn't go away with rest or sleep.
The paper, 'Chronic Fatigue Syndrome at Age 16 Years' by Simon Collin et al is published today [Monday 25 January 2016] in Pediatrics, the official journal of the American Academy of Pediatrics.
Based at the University of Bristol, Children of the 90s, also known as the Avon Longitudinal Study of Parents and Children (ALSPAC), is a long-term health-research project that enrolled more than 14,000 pregnant women in 1991 and 1992. It has been following the health and development of the children and their parents in detail ever since and is currently recruiting the children and siblings of the original children into the study.
The Association of Young People with ME (AYME) http://www.ayme.org.uk/ is a UK charity that provides support for children and young people aged up to 26 who have ME/CFS. AYME is also here to help and support parents, carers and professionals in health, education and social care.
UK charity Action for ME (www.actionforme.org.uk) works to improve the lives of those affected by ME by empowering them to fulfil their potential and secure the care and support they need; by increasing and awareness of the illness and its impact among the public, professionals, policy-makers and the press; and by working towards a greater understanding of the illness and ultimately a cure.