View all news
Students challenged to 'build something cool in 24 hours'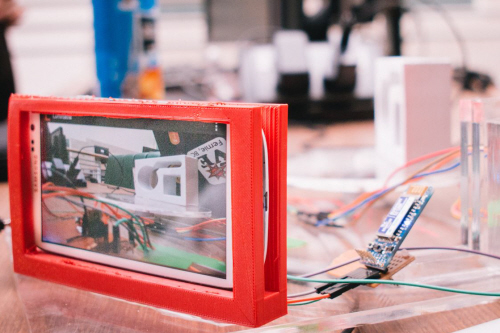 Press release issued: 27 January 2016
Students from the University of Bristol have been challenged to build anything using development boards during a 24-hour hackathon this weekend.
The 2016 hackathon, hosted by the University's Bristol Electrical and Electronic Engineering Society (BEEES) and sponsored by a leader in microprocessor intellectual property, ARM, will take place on Saturday 30 and Sunday 31 January. The event is open to any student and is supported by the Faculty of Engineering.
Students, in teams of up to five and from at least two different courses, will build a product from one of four categories: free-for-all (anything); Internet of Things (IoT); general purpose GPU and embedded graphics.
In previous years' teams have created laser harps; a robotic arm; a smart plant pot and a weather balloon.
Teams who enter the competition will be provided with a choice of development boards including mBeds, Raspberry Pi 2s and a range of Samsung devices.
Adam Catley, Vice President of BEEES, said: "The hackathon has become one of the highlights for students who like to build anything from scratch and can be used as the intensive skills section for the Bristol PLUS award. This is an event that tests skills, stamina and teamwork. Students don't need to register, they can just turn up on the day and take part."
The winning team will be awarded £500 and their names will be engraved on the hackathon trophy, which is displayed in the Merchant Venturers Building Atrium. The runners-up will receive £250.
The hackathon, which will take place in the Merchant Venturers School of Engineering, Woodland Road, Bristol, is free to enter and refreshments will be provided during the event.
Further information
About BEEES
The Bristol Electrical and Electronic Engineering Society (BEEES) is the University of Bristol's student society for electrical and electronic engineering.