View all news
ACCIS CDT triumphs for third consecutive year in best student paper awards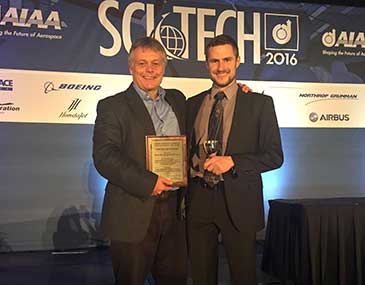 28 January 2016
Eric Eckstein, a PhD student in the EPSRC Centre for Doctoral Training in Advanced Composites for Innovation and Science (ACCIS CDT), has won the prestigious Jefferson Goblet award for overall best student paper at the 57th AIAA/ASCE/AHS/ASC Structures, Structural Dynamics and Materials Conference. Held this year in San Diego, USA, in conjunction with the SciTech Forum and Exposition, this event is the largest aerospace gathering in the world.
Eckstein won the award with a paper and presentation titled 'Thermally-Driven Morphing with High Temperature Composites'. Under the supervision of Professor Paul Weaver, Dr Alberto Pirrera and Dr Jacopo Ciambella, Eckstein's work investigates methods of achieving structural morphing at temperatures in excess of 1000°C. Success in his field may open the way to jet engines with shape-shifting combustors, turbines and nozzles, which would allow for better fuel efficiency and less noise on future aircraft.
Eckstein said: 'I'm super honoured to have been selected for this award, and very proud to represent the University of Bristol at this prestigious event. The award may have my name on it, but it's truly a testament to the fantastic support and training that Professor Weaver and the ACCIS CDT provide for students such as myself.'
The Jefferson Goblet is a replica of a silver goblet designed by US President Thomas Jefferson in 1788, and for the last 20 years has gone to the overall best student paper and technical presentation out of a field of over 60 entrants.
This marks the third year running in which an ACCIS CDT student has won a student paper award at this conference, with Broderick Coburn clinching separate awards in 2014 and 2015, and Rainer Groh winning the Collier Research HyperSizer Best Structures Paper Award in 2015.
Further information
The EPSRC Centre for Doctoral Training in Advanced Composites for Innovation and Science (ACCIS CDT) was established in 2009 following a £7.1 million award from the UK Engineering and Physical Sciences Research Council (EPSRC). The CDT was renewed in 2014 with £4.9 million of funding, securing its future until 2022.
The CDT is embedded within the Advanced Composites Centre for Innovation and Science (ACCIS), a leading research centre for composites research and education with a global reputation for excellence.
The CDT's vision is to develop the next generation of technical leaders in advanced composites by stimulating adventurous interdisciplinary research, which bridges the length scales, connects to and interfaces between the disciplines of engineering, chemistry, physics and life sciences, and bestows enhanced and added functionality to composite materials. The CDT's four-year multidisciplinary PhD programme in Advanced Composites comprises a one-year innovative taught component and a three-year research project, and is underpinned by a programme of skills training and professional development.
For further information, visit the website: www.bristol.ac.uk/composites/cdt