View all news
One of the biggest sporting events in the south west is coming to Bristol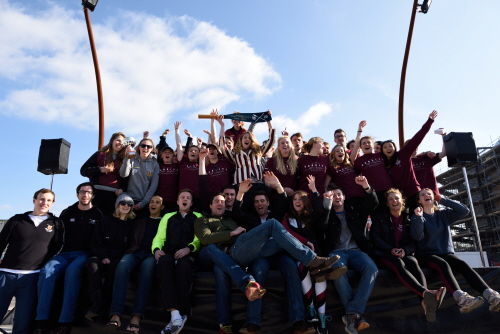 Press release issued: 26 February 2016
Bristol will play host to the Varsity series - one of the biggest sporting events in the south west - over the next fortnight as the city's two universities battle it out to be crowned sporting champions.
Varsity sees over 1,500 students and 90 teams from the University of Bristol and the University of the West of England (UWE) go head to head in over 35 sports and activities.
The rivalry gets underway on Monday [29 February] with men's and women's football, and culminates on 14 March with rugby matches held at the Memorial Stadium.
Sports range from the traditional to the more niche, including everything from windsurfing to water polo, canoeing to climbing.
The University of Bristol are the reigning Varsity champions and it always proves to be a closely fought contest.
In the last five years the event has raised more than £50,000 for local charities and each Students' Union. This year's chosen charity, for the second year running, is 1625 Independent people (1625ip).
The series began in 1995, when Bristol first challenged UWE to a Boat Race in the Bristol Docks. Since then, Varsity has grown to include over 1,500 athletes in over 90 teams.
The series culminates this year with three large events, which the local community are invited to watch and enjoy:
Steph Harris, Sport and Student Development Officer at the University of Bristol Students' Union, said: "This year's Varsity is going to be bigger and more exciting than ever before, with a new event, darts, and more students than ever involved. I'm so proud to work with such a vast number of students who are really committed to their sports and to raising money for our chosen charity 1625 Independent People.
"Bristol are defending champions this year, and we'll be giving everything we've got to hold on to that trophy. Last year we saw 5000 students and members of the community come together to support the teams. It would be great to grow that even more this year."
Adam Brittain, VP Sport and Health at The Students' Union at UWE, said: "It has been absolutely amazing to work on such a fantastic series and this year will be the best yet. It is great to see both institutions providing a sporting platform that involves over 2000 students. This year I want to see all of our UWE athletes steer us to an overall win. It's important not to forget that the Varsity Series is raising money for an amazing charity 1625 Independent People. Let's get behind Team UWE."
For more information, please see the Varsity website.
Further information
To show your support for the University of Bristol, use the #mightymaroon hastag on social media.