View all news
Botanic Garden curator awarded prestigious RHS award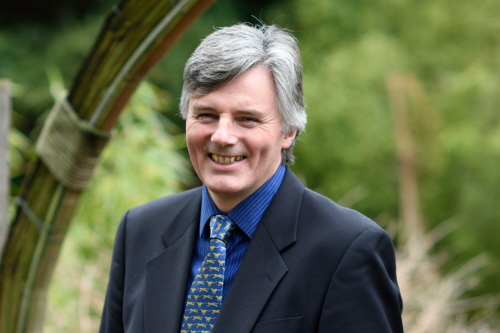 Press release issued: 25 February 2016
A University of Bristol horticulturist is to be presented with one of the Royal Horticultural Society's (RHS) highest awards for his work with plants and education today [Thursday 25 February].
Nick Wray, Curator of the Botanic Garden, has been awarded the RHS Associate of Honour for his distinguished service to horticulture in the course of his working life. The award recognises his work of more than 30 years at the garden and for his role in creating the new Botanic Garden at The Holmes, which was the first new university botanic garden to be moved and redeveloped in the UK for nearly 40 years.
On learning of the award, Nick Wray, said: "I am delighted and honoured to accept this award for 'distinguished services to horticulture'. I had always wanted to be a horticulturist and work with plants, even as a teenager. Encouraged by my family I grew plants, particularly trees - one of a number of strong interests I have to this day. I have been particularly fortunate in being able to work with some inspirational people throughout my working life including the fantastic team at the Botanic Garden and the garden's supporting Friends."
Nick, who has been curator at the garden since 2004, is responsible for curating the Botanic Garden's plant collections and promoting them as an educational and conservation resource. He has many interests in plants particularly the flora of South Africa, where he has spent years studying plants in the wild and leading tours to this biodiverse part of the world.
He is involved in teaching on the University's BSc Biology degree, including co-teaching on second year field courses and supervising third year projects. A large part of his work centres on public education and outreach. He has worked with the small team of dedicated Botanic Garden staff and large team of volunteers to create a vibrant programme of public engagement courses, activities and events, both at the garden and in the city. The Ballast Seed Garden is one such project which involves other city-based partner organisations. Nick has developed the horticultural design, planting and interpretation for the project and has led interpretive tours and talks.
Nick Wray added: "I enjoy exciting people about plants, their beauty, diversity and their place in a complex web of living things, including mankind. Many of the solutions to the problems facing the modern world are to be found in the world of plants. Motivating people about the possibilities contained within plants is key to society finding a balance with nature and exploiting the resources within the plant kingdom in a sustainable way.
"I have been lucky to travel to many parts of the world and see the speed at which healing of the land can take place when people work with plants. With societies vulnerable to environmental damage, plants and horticulture help with living, working and socialising environments. Their value in cities has recently entered the mainstream of planners and designers. Long may this continue and help enthuse the next generation of horticulturists."
Further information
Biography for Nick Wray
After a four year apprenticeship including a year at Lackham (working under Oliver Menhinick) and then at Cannington, where he obtained a Diploma in Amenity Horticulture and a short time working for Oxford University Botanic Garden, Nick joined the University of Bristol Botanic Garden in 1984. Working first as Senior Technician, under botanist and Garden Curator Dr David Gledhill, and then Superintendent at the Botanic Garden's former home at Bracken Hill in Leigh Woods, Bristol, when Dr David Gledhill retired as Curator in 1992.
Nick continued his studies, in landscape design and horticulture gaining professional qualifications with the RHS Master of Horticulture in 1988, his role developed in 2004 into his current post of Curator.
By far the most ambitious project was the relocation of the University's Botanic Garden, now celebrating its tenth anniversary of opening. In 2001 the decision was taken to relocate the Botanic Garden more centrally and Nick worked with a small team to help plan the move through an intensive four year period, which culminated in the gardens successful transplant in 2005.
From the new garden, Nick worked alongside Garden Director, Professor Simon Hiscock, Head of External Estates, Alan Stealey and a dedicated team to design and develop the garden and plant collections into imaginative multilayered educational displays, which reflect sciences current understanding of plants. These displays and the educational work have helped develop a national and international reputation for the garden as having cutting-edge displays linked to the latest scientific understanding.
This work has led him to speak at many conferences and meetings including Leiden's Hortus Botanicus 425th celebrations, which is the second oldest botanical garden in the world.
Within the area of horticulture Nick has served as a Board member of PlantNetwork [1998-2002]; he was the South African plant consultant at the Eden Project from 1998 to 2002, where he developed the ideas for and design of the South African zone of the Mediterranean Climatic Biome. He has also worked as a horticultural presenter on local radio and TV and for three years [1993-1995] alongside Geoff Hamilton as co-presenter on BBC Two Gardeners' World.
He has served as a judge at RHS shows including Chelsea, is a past Member of the RHS Tender and Ornamental Plant Committee [1998-2012] and is currently a Member of the RHS Herbal Advisory Group, a Fellow of the Chartered Institute of Horticulture and Fellow of the Linnean Society of London.
About the RHS
The Royal Horticultural Society was founded in 1804 by Sir Joseph Banks and John Wedgwood to inspire passion and excellence in the science, art and practice of horticulture. Our vision is to enrich everyone's life through plants, and make the UK a greener, healthier, happier and more beautiful place. We believe everyone in every village, town and city should benefit from growing plants to enhance lives, build stronger, healthier, happier communities and create better places to live.
We held our first flower shows in 1820, were granted a Royal Charter in 1861 and acquired RHS Garden Wisley, our flagship garden, in 1903. From our first meetings in a small room off London's Piccadilly, we have grown to become the world's largest gardening charity. At our gardens and shows and through our scientific research, publications, libraries and our education and community programmes we inspire a passion for gardening and growing plants, promote the value of gardens, demonstrate how gardening is good for us and explain the vital roles that plants undertake.
The RHS is committed to bring the joy of gardening to millions more people, inspire the next generation of gardeners and invest in the future to safeguard a £16.8 billion industry employing more than 300,000 people. We are entirely funded by our members, visitors and supporters. RHS membership is for anyone with an interest in gardening. Support the RHS and help us secure a healthy future for gardening. For more information call: 0845 130 4646, or visit https://www.rhs.org.uk/join
RHS Registered Charity No. 222879/SC038262
About the Botanic Garden
For opening times to the Botanic Garden, visit http://www.bristol.ac.uk/botanic-garden/opening-times/
Teas served from the Devers room in the Holmes will be available for garden visitors on the terrace over Easter, at weekends until the end of May, seven days a week during June, July, August and September, and at weekends in October.
Directions to the Botanic Garden
From the city centre go to the top of Whiteladies Road, at the junction and traffic lights go straight ahead across Durdham Down towards Stoke Bishop. At the traffic lights go straight ahead and take the first turning on the right into Stoke Park Road, The Botanic Garden at the Holmes is 150 m on the right.
Members of the public wishing to support the work of the Botanic Garden should join the Friends of the Garden. For more information go to the Friends of the Botanic Garden or write to Susan Redfern, The Membership Secretary, 24 Dublin Crescent, Henleaze, Bristol BS9 4NA.