View all news
Queen's Anniversary Prize awarded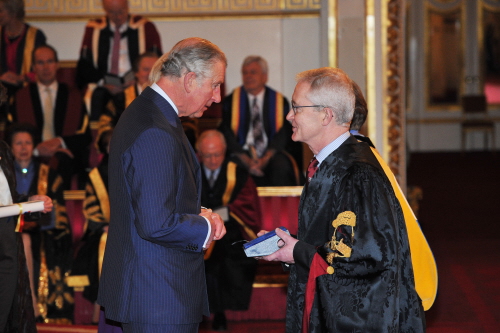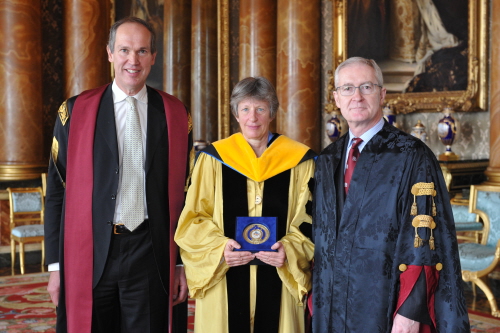 Press release issued: 26 February 2016
Professor Hugh Brady, Vice-Chancellor of the University of Bristol, Denis Burn, Chair of the Board of Trustees, and Professor Katharine Cashman, leader of Bristol's Volcanology Group have been presented with the Queen's Anniversary Prize for Higher Education on behalf of the University in a ceremony held at Buckingham Palace yesterday [25 February].
The prize, the highest accolade for any academic institution, was awarded to Professor Brady by HRH Prince Charles and the Duchess of Cornwall in recognition of Bristol's world-leading research in volcanology.
The work of Bristol's Volcanology Research Group has been applied across the globe to reduce a variety of risks posed by active volcanism. This includes: responding to the 2010 Icelandic ash crisis; forming the Global Volcano Model Network (GVM); improving hazard management and emergency response planning to reduce volcanic risk; monitoring the world's forgotten volcanoes from space; and understanding the risks of geoengineering as a strategy for reducing the risk from climate change.
Professor Hugh Brady said: "The University is delighted to receive such a prestigious award which recognises the deep and far-reaching impact of research carried out by Bristol scientists.
"The work of our volcanology research group has had real and lasting impacts throughout the world, making people's lives safer, contributing to more resilient societies, ensuring safer international travel and protecting essential infrastructure."
In total, 21 UK universities and colleges were awarded Prizes recognizing a wide range of innovative work across many different disciplines.
The award recognises the academic institution rather than an individual or team. It was established in 1993, and is organised by the Royal Anniversary Trust.