View all news
Collaboration seeks to create open solutions to urban challenges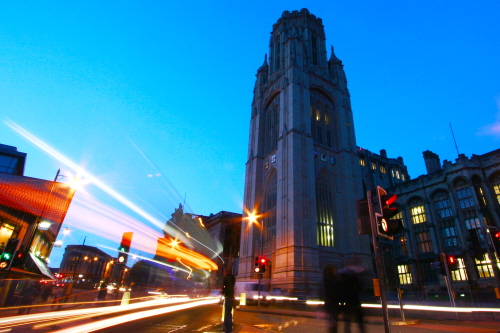 Press release issued: 10 February 2016
Bristol Is Open and NEC Corporation have signed a long-term partnership agreement to develop the open programmable city.
Bristol Is Open, a joint venture between the University of Bristol and Bristol City Council, aims to create the world's first open, programmable city to support the creation of innovative new smart services for people, business and academia. This will pave the way for improvements in a wide range of services, including traffic congestion, waste management, entertainment, e-democracy, and energy supply.
The partnership will help NEC to demonstrate new approaches to pervasive digital connectivity at city-scale, combined with its aim to create new social value for the changing world of tomorrow. The collaboration will enable Bristol Is Open to further its goal of creating the world's first open programmable city with a city-wide digital fabric that includes fibre in the ground, an experimental wireless mile, and a Radio Frequency (RF) mesh that covers the vast majority of the city.
The UK's Digital Economy Minister Ed Vaizey said: "Bristol Is Open is one of the UK's flagship digital smart city projects, led by the University of Bristol and Bristol City Council and part of the Government's superconnected cities programme. It's great to see NEC partner with Bristol Is Open, a collaboration that will help bring even more innovative technology and smarter services to Bristol residents and businesses."
George Ferguson, Mayor of Bristol, added: "More people use the Internet in Bristol than any other major UK city, and more people work in digital technology in the Bristol & Bath city region than anywhere in the UK outside London and the South East. We are forging ahead with digital innovation at a rapid pace and 'Bristol Is Open' is one of the most exciting examples of my approach to making Bristol a test bed for new ideas. I am delighted that NEC is bringing their commercial and technical expertise to the table because there is so much to gain by us sharing this journey with global partners."
Dejan Bojic, Smart Solutions Programme Director, NEC Europe, said: "NEC is particularly drawn to the work of Bristol Is Open because we share their belief that new levels of pervasive digital connectivity are required to enable the smart city of the future. NEC is pleased to support and endorse Bristol Is Open's development of software defined networks as a foundation behind Internet of Things and Big Data solutions needed to address critical issues faced by urban communities around the world."
Paul Wilson, Managing Director of Bristol Is Open, explained: "Bristol's approach to smart cities has gone deep into the architecture of network provision, creating a technology agnostic, heterogeneous, software defined approach to connectivity, at city scale. This elastic approach is addressing many of the architecturally-rigid constraints experienced in today's commercially available networks. As we bring our infrastructure live throughout 2016 we are looking forward to demonstrating new levels of connectivity that will be the hallmarks of the smart city of the future. We are absolutely thrilled to have NEC as a partner because they bring global scope, knowledge, and pragmatism to what we are doing."
NEC, Bristol Is Open and Bristol City Council are part of the €25m REPLICATE Lighthouse City consortium, alongside San Sebastián and Florence. The consortium will create integrated smart city solutions to tackle urban problems such as traffic congestion, poor air quality and unsustainable energy use. The consortium has received funding as part of the Smart Cities and Communities funding call, through EU's Horizon 2020 innovation programme.
The NEC Partnership contract builds on a previous Memorandum of Understanding, and will help Bristol, the eighth most populous city in the UK, on its journey to becoming an open programmable city. NEC has been supplying Bristol Is Open with advanced IT and communications technologies, including Software-Defined Networking (SDN) compatible switches, LTE small cells and iPASOLINK ultra-compact microwave systems, helping them to build the smart city test bed platform.
Further information
About Bristol Is Open
How cities work is changing. Bristol Is Open is a research infrastructure to explore developments in software, hardware and telecom networks that enable more interaction between people and places and more machine-to-machine communication. The project uses a high performance software defined network as the city operating system, then internet of things platforms and big data analytics feed an emerging number of smart city applications. This is giving people more ability to interact, work and play with the city that they live in, and will help cities address some of the biggest challenges of modern urban life.
About NEC Corporation
NEC Corporation is a leader in the integration of IT and network technologies that benefit businesses and people around the world. By providing a combination of products and solutions that cross utilize the company's experience and global resources, NEC's advanced technologies meet the complex and ever-changing needs of its customers. NEC brings more than 100 years of expertise in technological innovation to empower people, businesses and society.
Based on its Mid-term Management Plan, the NEC Group globally provides "Solutions for Society" that promote the safety, security, efficiency and equality of society. Under the company's corporate message of "Orchestrating a brighter world," NEC aims to help solve a wide range of challenging issues and to create new social value for the changing world of tomorrow. For more information, please visit http://www.nec.com/en/global/about/solutionsforsociety/message.html.