View all news
The Rev Richard Coles' lecture to explore the Church's approach to marriage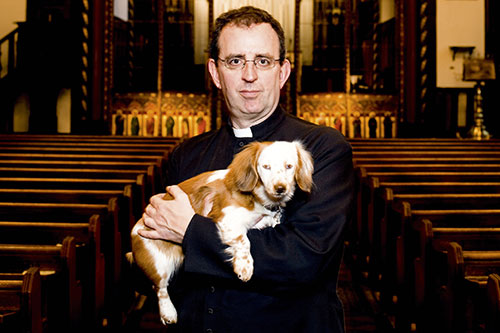 Press release issued: 24 February 2016
The subject of marriage – and in particular same sex marriage – is perhaps one of the most difficult and divisive issues faced by the Church of England. At a free public lecture hosted by the University of Bristol on Tuesday 8 March, the Rev Richard Coles will set out the problems, explore possible ways through them, and ask how marriage within the Church of England may continue to be, as the Book of Common Prayer puts it, 'an honourable estate'.
Mr Coles said: "Even though the secular world has, at least in some places, adjusted to husbands and husbands and wives and wives without much difficulty, in the church it has been much more difficult."
"For example, clergy who offer blessings of same sex unions in church have done so without the authority of their bishops, and the ways in which the church has responded to the issue has made headlines in the mainstream media."
'It's not the first difficult issue the church has had to address, but it is one that has threatened to fragment the Church, so it must be addressed. I don't pretend to have all the answers but I have some ideas, and I'm very much looking forward to sharing them with the audience in Bristol.'
The Policy & Politics Annual Lecture 2016 'Same sex marriage and the Church: 'an honourable estate?' takes place on Tuesday 8 March from 6-8pm. Tickets, which are free, are still available but must be reserved in advance from the online booking form.
The lecture has been organised by the international journal Policy & Politics as part of its annual lecture series. The journal is run by the School for Policy Studies at the University of Bristol, and published by Policy Press.
Sarah Brown, Policy & Politics Journal Manager and event organiser, said: 'We are delighted to welcome Richard Coles to speak at our 21st Annual Lecture. His subject perfectly illustrates the focus of Policy & Politics, which is to examine issues that matter in an informed and rigorous way.'
"For those who want to find out more, Mr Coles' recent biography: Fathomless Riches or how I went from pop to pulpit will be on sale after the event".