View all news
James Blunt returns to university to collect top accolade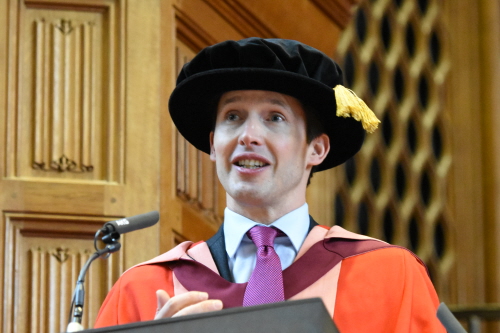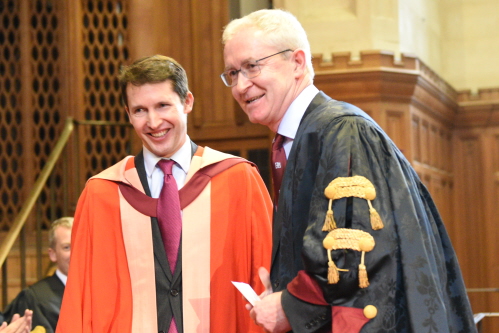 Press release issued: 17 February 2016
Pop superstar James Blunt today [17 February] returned to his former university to collect an honorary degree recognising his contribution to music.
The musician was awarded a Doctor of Music honorary degree by the University of Bristol, where he was a student from 1992 to 1996.
James said: "This is a huge and perhaps slightly undeserved honour from the place where I had some of my most rewarding and memorable years."
It was at university that he began to take song writing seriously and the song 'Wisemen' was penned while studying for his Sociology degree.
The song went on to appear on his first album 'Back to Bedlam', which has now clocked up over 11 million sales worldwide after becoming the highest-selling album of 2005 in the UK.
Indeed, music became such a big part of his life that James wrote his thesis somewhat prophetically on 'The Commodification of Image – Production of a Pop Idol'.
He collected his honorary degree today, some 20 years after first graduating. An honorary degree is a major accolade, awarded in recognition of outstanding achievement and distinction in a field or activity consonant with the University of Bristol's mission.
In a witty and heart-felt speech, he told fellow graduates: "The honour is to share the stage with you guys on this important day.
"The reason I've accepted this is to say thank you so much to a university where I had the best four years of my life. If I could turn back the clock to any time in my life, it would be to Bristol University. I would profess it to be the best university in the world."
Max Austin, Undergraduate Education Officer at the University of Bristol Students' Union, reflected on James' time at university and subsequent career.
In front of a packed audience of new graduates in the Wills Memorial Building, Max said: "James, who throughout his life has always sought to develop his passion and talent for music, but not necessarily through academic study, is a perfect example of how the range of experiences and opportunities you get at university may in fact become the defining aspect of your life."
James' undergraduate studies were sponsored by the Army and he joined the Life Guards, a cavalry regiment of the British Army, upon graduating in 1996.
He served as part of the United Nation's peacekeeping force in Kosovo, during which time he rose to the rank of Captain and commanded 30,000 troops into Pristina. He took to decorating his tank by placing a guitar on the outside and would often play to friendly locals.
After six years of service and having played a prominent part in the funeral of Queen Elizabeth the Queen Mother, James left the Life Guards to pursue a career in music, during which he has sold over 20 million albums and 17 million singles worldwide.
James is also a patron of Help for Heroes and a supporter of Médecins Sans Frontières, having raised significant funds through benefit concerts and auctions.