View all news
Student's witty and captivating performance tackles skin colour taboo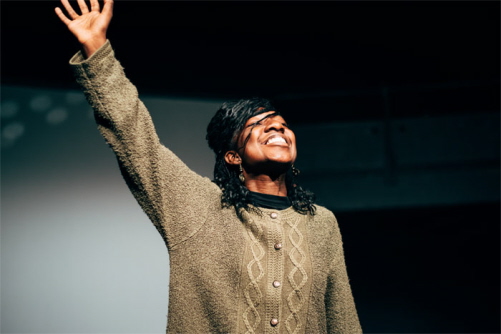 Press release issued: 22 February 2016
The coming of age story of a young black girl, as told in a compelling performance by University of Bristol student Eno Mfon, will captivate audiences at Bristol Old Vic this week.
Check the Label is a deeply intimate piece based on Eno's own experience of growing up in dark skin, told through poetry, childhood games and music - everything from nursery rhymes to Dizzee Rascal.
Eno takes to the stage with her witty and thought-provoking monologue from Thursday to Saturday [25 to 27 February].
It's rare for an undergraduate student to have their work staged as part of a professional programme, and the opportunity came about thanks to a script-writing course the University runs in partnership with Bristol Old Vic called Studioscripts.
The course enabled Eno and fellow Drama and English students to work with writer Sharon Clark, the theatre's literary producer.
Eno was then invited to perform Check the Label at 50 Voices for Malcolm X - celebrating 50 years of the civil rights movement and commemorating the anniversary of the death of civil rights leader Malcolm X, organised by Ujima Radio and Bristol Old Vic.
She said: "During my second year of Studioscripts, I decided to confront the experience of colourism and skin bleaching which permeates the Black and Asian community.
"When I was growing up I noticed visible changes in some of the women around me. There were little signs that revealed the use of lightening cream.
"I knew how to spot the signs but I never understood the wider implications of this; it was a taboo subject that no one dared to address.
"Through Check the Label I am attempting to say what many young black girls, including myself, once struggled to articulate."
The piece explores the damaging effects of Eurocentric beauty standards and the distance this creates between women of colour.
Dr Catherine Hindson, Head of Theatre at the University of Bristol, said: "It is an incredible achievement for an undergraduate student to have work staged in a professional programme.
"Eno's work has been developed through Studioscripts, one of several ongoing collaborations between Bristol Old Vic and the Theatre Department. Studioscripts is run by the Theatre Department's in-house company Studiospace and we are grateful to Sharon Clark, Bristol Old Vic's literary producer, for the time she invests in this important programme."
For more information and to book tickets, please see the Bristol Old Vic website.