View all news
How will robots change our lives?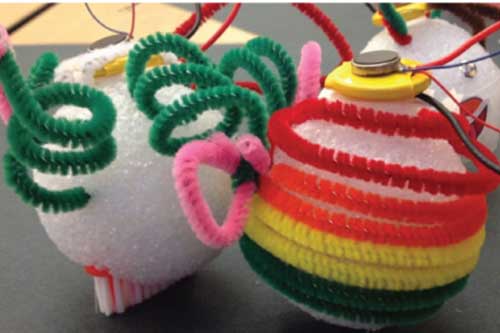 Press release issued: 18 November 2015
Will robots change the way people work, live and learn in the future? This question will be explored during European Robotics Week, which this year will be hosted by the Bristol Robotics Laboratory (BRL), a collaboration between the University of Bristol and UWE Bristol.
The week, which runs from 23 to 29 November, aims to connect the robotics community to the public and engage young people in fun and educational activities. Free events will be held in Bristol on Tuesday 24 and Wednesday 25 November.
Over the two days, there will be a public debate by leading European and UK experts on the role of robots in society, people will be able to take part in a full-day workshop on translating latest research in robotics to market and children will have the opportunity to visit the science centre, At-Bristol, to help researchers build 100 nanoparticle robots to "treat cancer".
Robots & Society Night on Tuesday 24 November at 7 pm will launch European Robotics Week. Dr Paul Bremner from BRL will give a live demonstration of a Nao robot, which will be followed by a debate about the role of robots in society with key experts from Europe and the UK.
On Wednesday 25 November, from 9 am to 5 pm, the Robots: From Imagination to Market event aims to bridge the gap between cutting-edge research in academia and robotic start-ups.
Starting with an introduction to robots in science fiction, people will have the opportunity to hear speakers talk about the latest state-of-the art research, hear from up-and-rising start-ups, and learn from successful companies. The day includes a tour of the BRL, an overview of legal and ethical questions, and a panel discussion on how to go from imagination to market.
The two-day robotics event will culminate on Wednesday 25 November from 6 to 8 pm with a Robot Buildathon. Children from 5- to 15-years-old will help researchers build 100 robots to treat artificial cancer cells. They will also interact with researchers, educators, and students at four robot stations. The stations will showcase a swarm of 200 coin-sized robots, Thymio and TiddlyBot robots they can program, and the latest robots from the Robogals team and students from Digimakers, which is a collaboration between the University of Bristol and the Chartered Institute for IT (BCS).
Professor Chris Melhuish, Director of the Bristol Robotics Laboratory (BRL), said: "We are delighted that Bristol is hosting European Robotics Week. BRL leads the way in Europe, bridging the gap between industry and the latest research in robotics, exemplified by our extensive research and development programmes, Robotics Innovation Facility (RIF), Technology Business Incubator, and UWE's co-located University Enterprise Zone, which specialises in robotics, medtech and related high tech areas.
"BRL is committed to research that has a positive impact on society, industry and the economy, and the European Robotics Week is an opportunity for us to share latest thinking, develop further links between research academia and industry, and enable the UK to compete more effectively."
The European Robotics Week is organised by euRobotics AISBL, and brings together hundreds of robotics events across Europe. Over the past five years, the event has attracted over 200,000 robot enthusiasts of all ages.
Members of the public can register for the free Bristol events at http://brl.ac.uk/euroboticsweek and follow the event on social media #ERW2015.
Further information
Members of the public are welcome to email any pictures, blog posts, and videos to media@roboticsweek.eu during European Robotics Week or tweet them using the hashtag #ERW2015.
About Bristol Robotics Laboratory (BRL)
Bristol Robotics Laboratory (BRL) is the most comprehensive academic centre for multi-disciplinary robotics research in the UK. It is a collaborative partnership between the University of Bristol and the University of the West of England (UWE Bristol) and home to a vibrant community of over 150 academics, researchers and industry practitioners. Together, they are world leaders in current thinking on service robotics, intelligent autonomous systems and bio-engineering. An internationally recognised Centre of Excellence in Robotics, BRL's state-of-the-art facilities currently cover an area of over 3,500 sq. metres (37,000 sq. feet).