View all news
Gloucestershire town becomes a museum to display recently excavated castle finds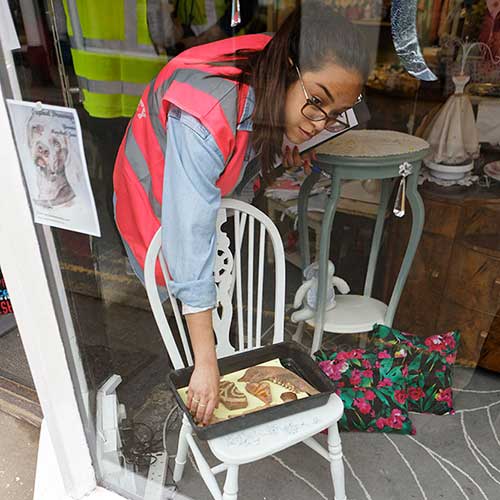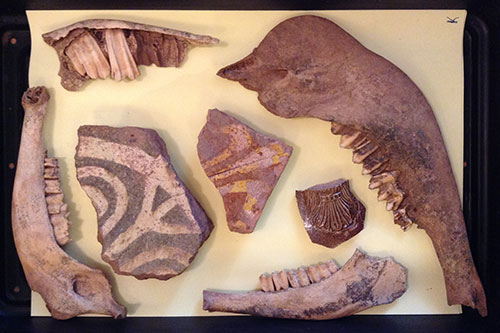 Press release issued: 28 May 2015
The town of Berkeley in Gloucestershire has become a museum this week, with local homes and businesses caring for and displaying historic artefacts excavated by students and staff at the University of Bristol as part of ongoing archaeological investigations at Berkeley Castle.
Every summer for the past eleven years, Bristol's Department of Archaeology and Anthropology has conducted excavations at the Gloucestershire castle, which dates back to the mid-1100s, unearthing more than 1,000 artefacts that shed new light on the long and eventful history of the castle and its environs.
This year, for the first time, some of these finds have been placed in the care of local residents who have undertaken to display them in the windows of their homes and businesses around the town as part of the Town Museum Project.
Beside each display tray, an information poster, created by Bristol students, describes the history and significance of the items, all of which were excavated on the castle grounds and cover hundreds of years of Berkeley history, mostly from the early medieval period to the nineteenth century.
Artefacts on display include animal bones, building materials such as decorated floor tiles and roof tiles, pottery storage vessels, glass containers for alcohol and medieval stained glass. Jewellery and clothing pins can also be seen as well as a number of decorated and undecorated clay pipes, some with distinctively short stems, others very long which usually belonged to members of the upper class.
Aisling Tierney, a PhD student at the University of Bristol who coordinated the Town Museum Project, said: "We have been delighted by the high level of community participation in this project which has proved a very effective way to bring archaeology into community life at Berkeley.
"The temporary exhibition has been very well received by the public, and the owners and staff of Berkeley Castle are delighted to be able to share their history within the community in this way. It's also proved an enjoyable experience for our students, helping them develop their engagement-related skills while showcasing the research of Bristol's Department of Archaeology and Anthropology to great effect."
Further information