View all news
Puppy love to help relieve exam stress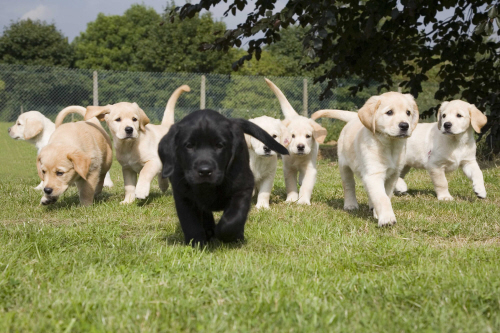 Press release issued: 12 May 2015
With impending exams and dissertation deadlines, this time of the year is especially stressful for university students. But help is at hand for those studying at the University of Bristol thanks to a special 'puppy room' to aid relaxation and calmness.
Students are being invited to cuddle guide dogs and their puppies on Monday 18 May, with organisers hoping the cute pups can provide some respite to the stresses and strains of revision.
It comes as research published in Japan suggests pictures of cute things like puppies or kittens can help improve concentration levels and performance.
Gordon Trevett, from the University's Centre for Sport, Exercise and Health, and also a Warden at the Hiatt Baker Hall of residence, read about a similar event last year and wanted to bring the puppy love to Bristol with the help of the charity Guide Dogs.
He said: "Every year I see students fretting about their exams and I thought this would be a great way to ease the stress and take their minds off it. People with dogs have lower blood pressure in stressful situations than those without a dog and we know that playing with a dog can elevate levels of serotonin and dopamine, which calm and relax. It's proved really popular and over 600 students have signed-up."
There will be around 20 dogs and puppies rotated throughout the day thanks to the support of local owners and trainers.
To ensure the puppies aren't agitated, the number of people allowed in the room is limited and each slot will last 15 minutes.
Students will be asked to make a suggested donation of £2 to Guide Dogs.

Sarah Knox, Community Fundraiser for Guide Dogs, said: "Guide dogs are most pleased to be able to work with the University of Bristol and allow students the chance to de-stress at this busy exam time. We are sure we will meet lots of students who miss their own pet dogs whilst away at University.
"I would like to say a big thank you to the University for their interest in our charity and also our volunteers who I am sure will create a wonderful experience for the students."
Jo Woods, Union Affairs Officer at Bristol SU, added: "While I'm more of a cat person myself, I'm really excited that the University is providing this for students. It's really important to do fun and different things to de-stress during exams and cuddling a puppy is a perfect way to release some endorphins."
Further information
Please note - the sessions are now full.