View all news
Puppy power proves popular as students lower stress levels and raise £1,300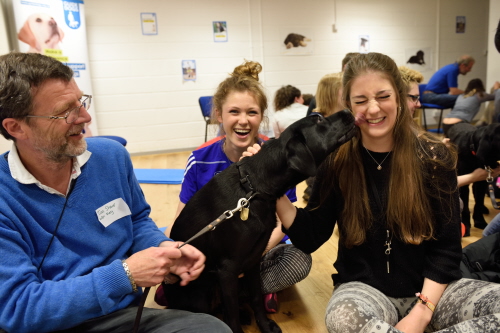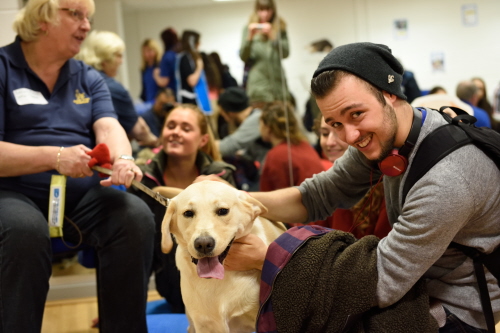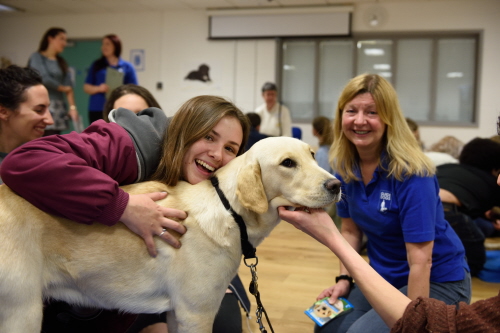 20 May 2015
A 'puppy room' held at the University of Bristol to help students cope with exam stress has been a resounding success, with over 600 students indulging in some puppy love and raising over £1,300 for Guide Dogs.
This time of the year is especially stressful for university students, but cute canine pups offered a helping 'paw' at the special event, organised to aid relaxation and calmness.
A total of 21 working guide dogs and puppies in training were petted, stroked and hugged in the University's Centre for Sport, Exercise and Health throughout the day.
Not only were students distracted from their deadlines and looming exams, they also helped to raise over £1,300 for Guide Dogs, the charity which made the day possible.
The man behind the idea, Gordon Trevett from the Centre for Sport, Exercise and Health, and also a Warden at the Hiatt Baker Hall of residence, brought the puppy love to Bristol after reading about a similar event last year.
He said: "It was fantastic to see so many happy and relaxed students. People with dogs have lower blood pressure in stressful situations than those without a dog and we know that playing with a dog can elevate levels of serotonin and dopamine, which calm and relax.
"There certainly was a lot of love for the dogs and the whole day was a great success. We're grateful to Guide Dogs for their support and pleased to have raised so much money for their work."
To ensure the puppies weren't agitated, the number of people allowed in the room at each time was limited and each slot was 15 minutes.
Sarah Knox, Community Fundraiser for Guide Dogs, said: "We were really overwhelmed by the positive response from students and it's great for the puppies to get used to interacting with groups of people. A huge thanks must go to the students for their generous donations and to our volunteers who gave up their time to create this wonderful experience."