View all news
Celebrating research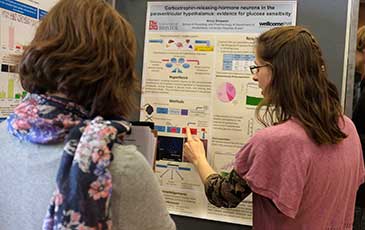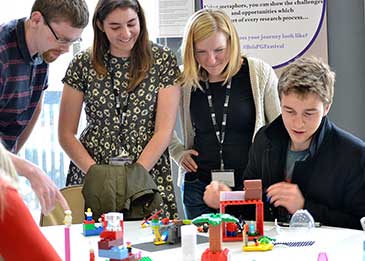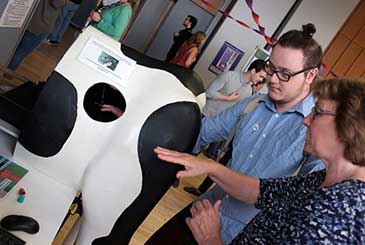 15 May 2015
More than 250 students and staff attended the recent Bristol Doctoral College Festival of Postgraduate Research, an annual event designed to raise awareness of the range of research taking place at Bristol and to bring the postgraduate research community together.
The festival, held in the newly refurbished Richmond Building, featured the work of 85 postgraduate researchers from across the University. Visitors had the opportunity to meet the people behind the research, find out about the network of University support available to Bristol postgraduate researchers and try out interactive activities such as the 'Lego Challenge' and the multi-award-winning project danceroom Spectroscopy.
The poster competition attracted 40 entrants, covering a wide range of research topics. The winner was Dr Anna Simpson in the School of Physiology and Pharmacology for her entry entitled 'Corticotrophin-releasing-hormone neurons in the paraventricular hypothalamus: evidence for glucose sensitivity'.
The festival included group displays from nine research clusters with overlapping research themes, from veterinary education research using a Haptic Cow, to displays on emotive recognition from researchers in the School of Experimental Psychology, and an exploration of the links between different archival research methods from postgraduate researchers in Theatre and Performance.
In the Opposites Attract challenge, where researchers in different disciplines paired up to collaborate on a project, Michael Dalili (Experimental Psychology) and Doreen Pastor (German) found common ground exploring the 'Emotional experience of visiting dark tourist sites', while Caroline Roberts (Law) and Rachel Harris (Medicine) identified unexpected links in 'A sense of self: perspectives from neuroscience and human rights law'.
Professor Nishan Canagarajah, Pro Vice-Chancellor (Research), said: 'The festival goes from strength to strength. This year's event saw a remarkable range of research from across the institution, and showed how inspiring collaboration can be between researchers from different disciplines.'