View all news
New Enterprise Bill revealed during ministerial visit to Bristol's Engine Shed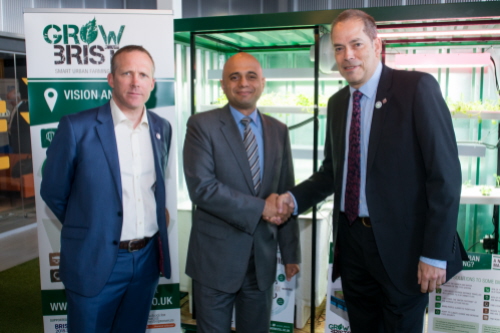 Press release issued: 19 May 2015
New Business Secretary Sajid Javid pledged to cut at least £10 billion of red tape over the next five years during a visit to Engine Shed in Bristol today [19 May].
In his first speech since taking up the role last week, Mr Javid revealed the Enterprise Bill which includes new measures to support entrepreneurs and job creation. This will form a central plank of the first Queen's speech of the new Parliament.
His visit to Engine Shed, an enterprise hub run by the University of Bristol, was especially pertinent as Mr Javid grew up in the city and lived above his parents' shop.
He said: "Small businesses are Britain's engine room and the success of our whole economy is built on the hard work and determination of the people who run and work for them.
"As Business Secretary I will always back them and, in my determination to get the job done, one of my first steps will be to bring forward an Enterprise Bill that helps them to succeed and create jobs."
The Minister met with Nick Sturge, Director of Engine Shed and SETsquared Bristol, to hear about the work Engine Shed is doing with universities and local councils. The hub based at Bristol Temple Meads has already contributed £8 million to the UK economy since opening in December 2013.
Nick Sturge said: "We were delighted to host this visit today to demonstrate the possibilities of a Great Western powerhouse. Our track record of bringing together businesses with local authorities and universities is building the momentum towards an expansion of Engine Shed."
The Engine Shed, a Grade I listed building built by Brunel in 1841, had a £1.7 million transformation in 2013 thanks to a partnership between Bristol City Council, the University of Bristol and the West of England LEP.
It's managed by Bristol SETsquared - the University of Bristol's double award-winning business incubator - which has a third of the current space to provide premium serviced offices for its early-stage technology businesses.
In addition to providing access to funding for businesses, Mr Javid also said that access to mentoring is crucial – a service provided at Engine Shed through SETsquared Bristol and WebStart Bristol.
Karl Wills from Pelipod, a company that has been part of Bristol SETSquared since February, said: "It was a fantastic opportunity to speak with the Secretary of State and to give Pelipod a higher profile.
"The Minister liked the product and the concept and could see it being of real use for delivery to businesses as well as consumers. It was interesting to hear the proposal for the inclusion in the Queen's Speech and it will be very exciting to see that delivered."
Further information
About Engine Shed
Engine Shed is a collaboration between Bristol City Council, the University of Bristol and the West of England Local Enterprise Partnership at the heart of Temple Quarter Enterprise Zone.
Its mission is to stimulate long term economic growth by supporting business, inspiring young people to get involved and to showcase to the public and potential inward investors the exciting opportunities that exist here.
By uniquely co-locating a number of related entities and operating a central Business Lounge which brings together academics, entrepreneurs, business leaders and policy makers, in a high-profile, iconic building next to a mainline train station, the project is of global significance.
An independent Economic Impact Assessment in 2015 showed that Engine Shed had contributed £8m to the UK GVA in its first year of operation.
About the Bristol SETsquared Centre
Bristol SETSquared is part of is a collaboration between the universities of Bath, Bristol, Exeter, Southampton and Surrey which partners in enterprise activities and collectively supports the growth and success of new business opportunities through spin-outs, licensing, incubation and education.
The partnership also works with industry through research collaboration and consultancy. In the last 12 years, SETsquared has developed over 1,000 high tech start-ups that have generated some £1bn in investment. It is named by the UBI as the joint best university incubator in Europe and 2nd best globally.
The Bristol SETsquared Centre, now located within the Engine Shed in the heart of Bristol's Temple Quarter Enterprise Zone, supports over 65 members who between them employ over 750 people and have raised over £168million since 2007.