View all news
Students challenged to go on a mathematical journey of discovery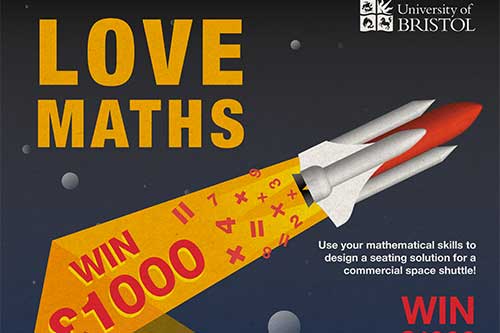 Press release issued: 18 May 2015
Year 12 students from across the country are being challenged to design a new seat for future space missions and win £1,000. The nationwide mathematical challenge, now in its third year, was launched by the University of Bristol's Department of Engineering Mathematics last week.
Academics from the department have developed the challenge based on a real-life case study about space tourism, to provide school children with an insight into mathematical modelling and group work, which are two key aspects of the degree course.
Fifty years after the first moon landing, the dream of commercial spaceflight is finally becoming a reality. Companies such as SpaceX, Virgin Galactic and Space Adventures are offering a wide range of spaceflight and space tourism experiences. One of the biggest problems facing spaceship developers is the design of safe and comfortable seating. Unfortunately the human body is not well adapted to the rigours of take-off, in space manoeuvring and re-entry. Better space seats would not only open up the space tourism sector to more people but would also contribute to space exploration throughout the solar system and beyond.
Professor Eddie Wilson, Head of the Department of Engineering Mathematics, said: "This is a really exciting competition and will give students tremendous practice in problem solving with mathematics - an important skill that many of them will use in their careers."
In addition to the challenge the department is offering students a second opportunity to try out mathematical modelling at an event that will take place at the University on Wednesday 1 July.
The Bristol Engineering Mathematics School Challenge is open to Year 12 students and the closing date for entries is Friday 26 June 2015.
For more information about the challenge, visit: http://www.bristol.ac.uk/engineering/departments/engineering-mathematics/competition/
Further information
About the Department of Engineering Mathematics
The Department of Engineering Mathematics is a vibrant department with a strong international reputation for teaching and research into real-world applications of mathematics. It is unique in the UK as the only mathematics department based in an engineering faculty, which gives the department unrivalled access to a wide range of industrial collaborations.