View all news
Can video streaming over mobile broadband networks be improved?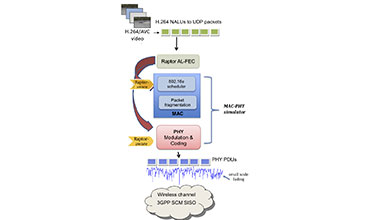 Press release issued: 15 July 2014
Due to the increase in smartphone video applications, mobile video traffic is rising significantly. New research has shown how videos can be better transmitted over wireless links such as Wi-Fi and 4G.
The study by Professor Andrew Nix and Dr Victoria Sgardoni from the University of Bristol's Communication Systems & Networks group is published in the journal, IEEE Transactions for Mobile Computing.
It is well known that video dominates Internet traffic and by 2018 it is expected wired devices will account for 39 per cent of Internet Protocol (IP) traffic, while Wi-Fi and mobile devices will account for 61 per cent of IP traffic.
The researchers propose a new approach for high-quality video transmission over wireless links. As shown in the cross-layer system simulator figure, they suggest cross-packet forward error correction (FEC) codes, such as Raptor codes, are applied at the application layer (AL) to allow the AL decoder to regenerate packets that were lost over the radio and network layers.
The paper explains how the adaptation of the radio layer depends on the parameters of the application layer coding, through Raptor-aware Link Adaptation and a cross-layer optimisation approach.
The proposed methodology takes into consideration the channel resources required to accommodate the Raptor overheads. Simulation results show that packet loss is eliminated and the amount of radio resource required to transport video is reduced significantly. Automatic Repeat Request (ARQ) based unicast systems require up to 115.6 per cent more channel resources, by comparison to the researchers proposed Raptor-aware LA system without retransmissions.
Furthermore, the Raptor-aware LA system can enhance the link budget by up to 4dB, (increasing radio coverage by up to 58 per cent), and can improve total goodput by 46.7 per cent compared to a traditional ARQ-based system.
The research shows that this approach increases the transmission efficiency for unicast streaming of high quality live video, while the video is delivered error-free.
Andrew Nix, Professor of Wireless Communication Systems and Head of the Department of Electrical and Electronic Engineering, said: "Given the data crunch that is occurring in current and future networks, and the fact that video is the dominant application, this work has the potential for considerable impact."
Paper: Raptor code-aware link adaptation for spectrally efficient unicast video streaming over mobile broadband networks, Victoria Sgardoni, Member, IEEE, and Andrew R. Nix, IEEE Transactions on Mobile Computing, early access article 19 June 2014.
Further information
About Professor Andrew Nix
Andrew Nix received his PhD in High Throughput Wireless Communications from the University of Bristol in 1993. He is currently Professor of Wireless Communication Systems at the University of Bristol and is to become Dean of the Faculty of Engineering from 1 August 2014. He heads the Department of Electrical and Electronic Engineering and also leads the Communication Systems and Networks research group (14 academics, 20 research staff and 50 PhD students).
His research interests include radio wave propagation modelling, advanced Wi-Fi systems and 5G networks and architectures. Andrew's outdoor ray models were amongst the first to fully support MIMO communications and are well known for supporting "whole city" analysis, including illumination to and from airborne platforms. His indoor models are used extensively in the test and verification of in-home Wi-Fi routers.
Andrew was a founder member of ETSI RES10 (1992-1995), the committee that drafted Europe's first WLAN standard (Hiperlan), and later participated in the formation of the IEEE 802.11 standards. In 2001 Andrew co-founded ProVision Communications, a UK based company that specialises in the robust transmission of whole home HMDI signals via Wi-Fi and Wi-Fi over cable solutions. In 2013 Andrew joined the Strategic Advisory Board of BluWireless Communications, a Bristol based SME developing gigabit backhaul and access solutions in the millimetre wave bands.
To help promote electrical and electronic engineering Andrew sits on the advisory board of the UK Electronics Skills Foundation. Andrew has successfully supervised more than 50 PhD students and published in excess of 400 journal and conference papers.
About Dr Victoria Sgardoni
Victoria received the Dip. Ing. degree in Electrical Engineering from the University of Patras,
Greece, and an MSc in Communications Engineering from Imperial College, University of London, in 1988. In 2012 she received the PhD on Enhanced Wireless Video Transmission from the Centre for Communications Research (CCR), University of Bristol, UK.
Currently she is a Research Associate at the Communication Systems and Networks research group, University of Bristol, and holds a Lecturer position at the Aircraft Technology Department of the TEI of Sterea Ellada in Greece. Prior to this she worked as a Project Manager and Telecoms Consultant at OTEnet, Greece (1999-2001), the Greek PTT OTE (1996-1998), Reuters Hellas, Greece (1994-1996) and a Consultant on speech recognition and speaker verification R&D projects at Logica Cambridge, UK (1989-1994).
Her research interests include broadband wireless communications, 5G networks and advanced Wi-Fi systems, crosslayer network design and optimization, efficient spectrum scheduling, error control coding, robust video transmission.