View all news
Fingers on buzzers! Bristol's quiz team prepares for Paxman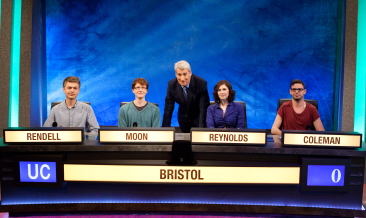 Press release issued: 23 July 2014
The University of Bristol's quest to prove its quizzing prowess begins on Monday, when they take on the Courtauld Institute of Art in the first round of the new series of University Challenge.
The team has already fought off fierce competition from the country's brainiest students to reach this stage, with over 130 student quiz teams auditioning for a coveted place on the show's 50th series.
After a gruelling interview and tough test paper, the Bristol team were named as one of the successful 28 teams who would face the sharp tongue of presenter Jeremy Paxman.
Viewers can see how they fare against the Courtauld Institute on Monday, 28 July, at 7.30pm on BBC2.
The final six Bristol teammates, chosen from over 250 Bristol students who applied, are:
Anastasia Reynolds (captain) – 4th year, studying Czech and Russian
Lewis Rendell – 3rd year, studying Maths
Benjamin Moon – 3rd year, studying Geology
Miles Coleman – 4th year, studying Spanish and Portuguese
Robert Beavis (first alternative) – 2nd year, studying Archaeology
Mungo Jackson (second alternative) – 3rd year, studying Chemistry
All applicants were put to the test by the University of Bristol's Students' Union (UBU) in November last year, competing in three rounds of mentally gruelling tests. The main test involved 30 questions against the clock, with students needing to get 60 per cent correct in less than 10 minutes to be sure of qualifying.
UBU weren't just looking for the most knowledgeable students though - speed, calmness and complementary areas of knowledge were all taken into account.
Former Mastermind contestant George Ferzoco, from the Department of Religion and Theology, oversaw the process and has helped the team to prepare for the challenge with revision of all manner of subjects.
After intense training, the team headed to the studios in Salford's Media City where they came face-to-face with Paxman and began their quest to become University Challenge Champions 2015.
Team captain Anastasia Reynolds said: "We were delighted to get into the televised part of University Challenge. We got on very well with the production team at our interview - we were helpless with laughter all the way through - but still it was nice to know they thought we'd make good TV.
"Obviously we can't reveal anything about who we played or how we did, but we enjoyed ourselves immensely, on set and off. Jeremy is lovely, as are the production team, and all the other teams that we met from all over the country."
University Challenge is the longest-running academic quiz show in the UK. It was first aired in 1962 and this will be its 50th series.