View all news
Bristol students celebrate graduation from innovative new programme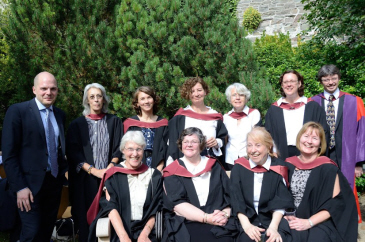 Press release issued: 16 July 2014
A cohort of students graduated today [18 July] as the first group to complete the University of Bristol's unique BA English Literature and Community Engagement (BA ELCE) degree
Their graduation ceremony in the Wills Memorial Building marked the end of six years of part-time study which staff and students have described as a 'shared adventure'.
As part of their degree, the students have been the first in the country to plan and run community projects which promote the positive impact of reading, whilst simultaneously studying a wide range of literature at degree level.
The group's innovative projects set up home across the city in libraries, community centres, a drug rehabilitation centre and a prison.
Students worked in partnership with local organisations, including Bristol Libraries, the Bristol Drugs Project and the Redcliffe Community Forum, to impact the lives of individuals through encouraging a love of the English language.
The BA ELCE accepts applicants from a variety of backgrounds, and the cohort graduating today is aged between 30 and 70 years old.
Sue West, one of the graduating students, said: "I didn't think that the University of Bristol was for me. Now I'm graduating with a pioneering new degree from 'that place up on the hill'. My parents would have been so proud of me."
The course's unique approach has enjoyed a high completion rate - of the 17 students, who started this programme in 2008, 11 are graduating, one chose to leave with a Diploma, and one will complete the course in the near future.
Tom Sperlinger, Course Director said: "We are delighted to congratulate the students on all they have achieved - it takes enormous commitment to complete a degree programme over six years.
"Through the community projects they ran these students have also shared their adventure with more than a hundred other people. This degree shows how much can be achieved within a relatively small-scale programme that engages local communities and emphasises collective endeavour."
The BA ELCE aims to broaden the range of students who are able to study for a degree - specifically those who have previously felt that university level study was not an option, or those who have been away from education for a long time.
The BA ELCE was founded on the belief that education is valuable to the individual and to society, and was a runner up for the prestigious Universities Association for Lifelong Learning annual awards scheme in 2013.
Ellen Howard, another graduating student, said: "I'm often asked what I'm going to do with my degree and I'm unsure as yet, but the world has more possibilities for me now.
"I have no illusions about being snapped up by an employer at the ripe old age of 61, but what I have gained I cannot put a price on – empowerment, confidence and self-esteem. In our goal-orientated society, with its ethos of competition and profit, we've forgotten the idea of learning for its own sake, enhancing self and community through co-operation and achievement."
You can read more students' stories here.