View all news
UK's first masters research studentships for veterinary nurses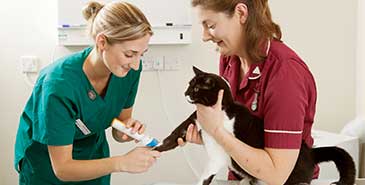 Press release issued: 15 July 2014
Veterinary nurses across the UK will, for the first time, have the opportunity to study for a Masters by Research degree in a small animal clinical research environment.
The Masters by Research degree has been launched by the University of Bristol's School of Veterinary Sciences and will be based at the Vet School in Langford.
There are two research projects on offer for 2014/15, the first will investigate the factors that make dogs liable to regurgitate during surgery and the second will develop rapid testing methods for post-operative joint infections.
Intra-operative regurgitation is common in dogs during some types of surgery, affecting up to ten per cent of orthopaedic patients seen at the small animal teaching hospital, part of the University's Langford Veterinary Services (LVS). Intra-operative regurgitation may increase the risk of patients developing post-operative oeophagitis and aspiration pneumonia, measures to manage regurgitation once it occurs are time consuming.
Whilst a number of retrospective studies have attempted to identify factors linked to regurgitation in anaesthetised dogs, it is not clear why dogs undergoing orthopaedic surgery are more likely to suffer from this complication than dogs undergoing neurological or soft tissue surgery.
The aim of the study is to gather data on the dog surgical population in an attempt to identify risk factors which can be modified, allowing future research to evaluate interventions based on risk factors identified in this study.
Joint infections can be caused by a range of bacteria and can occur following injury or surgery. Treatment of an infection once detected can often be traumatic and involve further surgery, removal of implants or amputation.
The aim of this project is to develop rapid molecular typing methods to identify bacteria that cause joint infections and to determine the source of these bacteria – the host or the hospital environment. The bacteria will also be screened for antibiotic resistance and toxin production. Identification of the source of bacteria causing joint infections and their resistance to antibiotics will aid in the prevention and rapid treatment of joint infections.
Applicants will gain experience in small animal clinical research and will receive training in the design, conduct and presentation of research. The studentships, starting on 1 October 2014, will be based at the University's School of Veterinary Sciences, Langford and practical work will be carried out in the small animal teaching hospital at Langford.
Candidates must be a registered veterinary nurse and have a good degree (at least 2:1) in a relevant discipline.
The closing date for applications is 14 August 2014. For further information about the studentships, contact Andrea Jeffery on tel (0117) 928 9662 or email andrea.jeffery@bristol.ac.uk
Further information
About Langford Veterinary Services
Langford Veterinary Services (LVS) is a customer focussed veterinary business providing an extensive range of specialist capabilities and a superior quality of care. All clinics are supported by highly specialised clinicians, diagnostic imagers, anaesthetists, nurses and other support staff.
Langford Veterinary Services is a totally owned subsidiary of the University of Bristol.