View all news
Jazmin scoops silver as she jumps for joy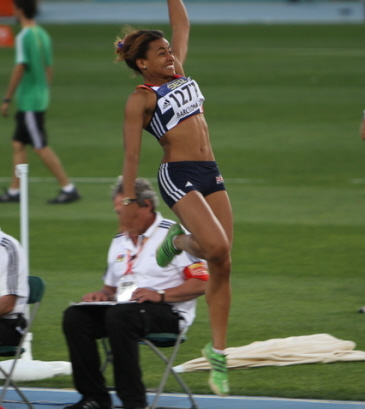 Press release issued: 1 August 2014
University of Bristol student Jazmin Sawyers was jumping for joy yesterday as she took silver in the women's long-jump at the Commonwealth Games 2014.
Jazmin leapt into second position on her final jump during a tense final in Glasgow.
The 20-year-old moved into bronze position with a jump of 6.47m in the third round - rising five places from eighth following her first two attempts of 6.30cm and 6.10cm.
With a bronze medal guaranteed Jazmin followed with jumps of 5.83m and 6.40m in rounds four and five, before her final leap - and season's best - of 6.54m took her into silver position.
The 2nd year Law student finished just two centimetres behind gold medallist Ese Brume of Nigeria, who jumped 6.56m.
Jazmin said: "It was just incredible – I didn't expect it. When I finished and realised I'd got silver words can't describe the feeling. Receiving the medal and seeing the flag flying was totally unforgettable and totally overwhelming."
When asked about her future plans and returning to everyday life, she said: "It's going to be different – but I've been in sport long enough to know that you don't get to do the exciting stuff without doing the mundane day-to-day things.
"I'm going to stay focussed on long jump for now and aim for the World Championships in Athletics next year in Beijing, and the Rio Olympics in 2016. Eventually I would love to return to the bobsleigh, and of course my music will always be there, but long-jump is the focus for now."
Jazmin returns to Bristol on Wednesday and starts back at Bristol University in September where she is part of the Performance Sports Squad.