View all news
Honorary Degree Awarded at the University of Bristol – Friday, 18 July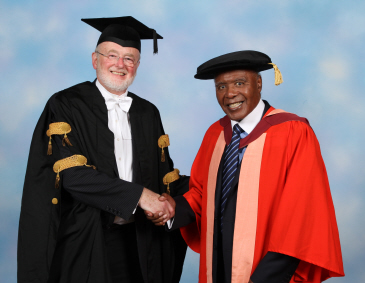 Press release issued: 18 July 2014
The University of Bristol is awarding an honorary degree to Mr Paul Stephenson at a degree ceremony taking place today in the Wills Memorial Building.
Mr Paul Stephensonis being awarded a Doctor of Laws for his dedication to fighting for equality and civil rights across Bristol and around the world for over 60 years.
Paul was born in Essex in 1937 and educated at Forest Gate Secondary School in London, where he was the only black child.
In 1953, Paul joined the Royal Air Force where he served for seven years before completing a Diploma in Youth and Community Studies at West Hill College. In 1962 he went on to study Sociology and Community Development at University College, Westhill, Birmingham.
Paul arrived in Bristol in 1962 as the city's first black Social Worker. At this time, black people had no legal protection against discrimination, allowing companies to legally refuse to recruit people on the basis of their race. Paul led a pioneering campaign against Bristol Omnibus Company which became known as the Bristol Bus Boycott.
Within six months the campaign was successful and the company announced it would employ black people on 28 August 1963. However Paul did not stop there. He challenged the Bay Horse, a public house which refused to serve black people, was arrested and finally acquitted.
In 2007, 50 years later, Paul was offered the keys to the city – only the 50th person since 1888 and the first black person to receive the honour.
Paul's activism significantly contributed to Britain's first Race Relations Act in 1965, and has also had a global reach. He has campaigned in America and also against apartheid in South Africa.
An honorary degree is a major accolade, awarded in recognition of outstanding achievement and distinction in a field or activity consonant with the University's mission.