View all news
£614,000 to continue exploration beneath Greenland Ice Sheet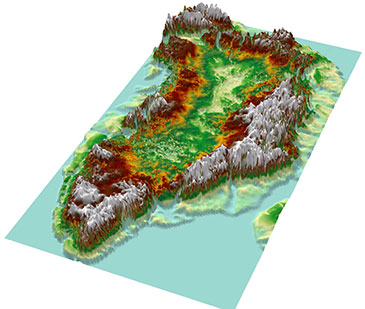 Press release issued: 18 July 2014
Last summer, scientists from the University of Bristol discovered the longest canyon in the world buried beneath three kilometres of ice in Greenland.
The 'Greenland Grand Canyon' was an unexpected discovery resulting from the analysis of thousands of line kilometres of airborne radar data that have been collected over Greenland by NASA, German, Danish and UK scientists since the 1990s.
This data set represents a vast treasure trove of information about the conditions beneath the Greenland ice sheet, the second largest ice mass on the planet.
Now, a team of scientists, led by Professor Jonathan Bamber at the University of Bristol, have been awarded a £614,000 grant by the Natural Environment Research Council to continue their work on exploration of this remote environment.
The aims of the three year project, which also involve the Universities of Cambridge and Exeter, and collaborators from the US and Norway, are to investigate the basal conditions beneath the ice sheet and how they relate to the flow of the overlying ice.
The insights gained from this work will be critical for the next generation of numerical models that aim to predict how the ice sheet will evolve in the future.
Professor Bamber said: "This is an incredibly exciting project. We have only scraped the surface of what the data can tell us about the basal conditions and how they control ice flow. We have an amazing team of scientists from the UK and US who are involved in the project and we can't wait to get start working on the data."