View all news
From frontiers to football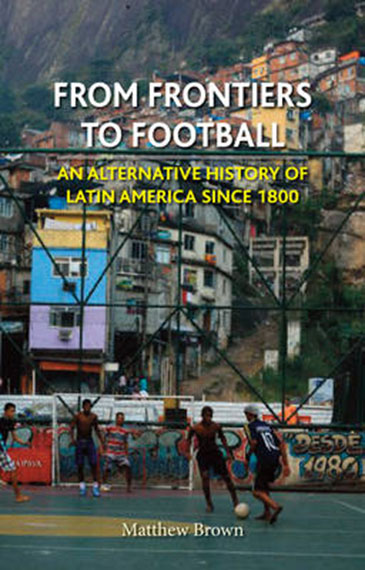 Press release issued: 10 July 2014
A new book by Dr Matthew Brown of the Department of Hispanic, Portuguese and Latin American Studies which presents an alternative history of Latin America is published today.
From Frontiers to Football tells the history of Latin America's engagement with global empires from 1800 to the present. It is a story of repeated cycles of lessons learned and unlearned, continued dependency, victimhood and thwarted dreams. It is also a narrative of overthrown imperial designs, colonial armies defeated and new hopes expressed – inspiration for other colonized peoples across the globe.
The book redresses the absence of cultural history, giving as much attention to Shakira and Pelé as to coffee producers, copper miners, government policies and covert imperialism. It avoids the polemical invectives of political interpretations, presenting a clear, readable and absorbing introduction to the history of Latin America's interactions with the world over the last two centuries.
No longer either a frontier or a periphery, Latin America is at the forefront of innovation and a global centre in many social, cultural and economic activities. Dr Brown's book presents a compelling and accessible portrait of a continent today.
From Frontiers to Football: An Alternative History of Latin America since 1800 is published by Reaktion Books £20
About the author
Dr Matthew Brown is Reader in Latin American Studies at the University of Bristol. He is the author of The Struggle for Power in Post-Independence Colombia and Venezuela (2012). During the current World Cup, he has been interviewed by Colombian, Brazilian and Ecuadorian media, as well the Financial Times, Monocle, When Saturday Comes and the BBC.
Reviews
A superb introduction to Latin America's history, written for a global age – John Darwin, University of Oxford
In the year that the World Cup comes back to the region for the first time in almost 30 years, Brown skilfully joins the dots between the region's culture and those of the rest of the world. Reasoned, opinionated and moreish. – Andy Brassell, European football writer and broadcaster
Everything you wanted to know about Latin America… A must-read for anyone interested in the region. – Dr Natalia Sobrevilla Perea, University of Kent